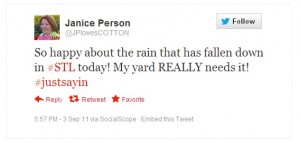 So happy about the rain that has fallen down in #STL today! My yard REALLY needs it! #justsayin

— Janice Person (@JPlovesCOTTON) September 4, 2011
That tweet is really easy for lots of people to understand. So much of the US has been drier than normal and high temperatures. We have all seen lawns like mine. The yard that seemed lush green six weeks ago when I made an offer on the house has taken a real turn for the worst. There are areas where the grass is gone for the year. I hope it comes back later. And I have tried to save some of the trees with watering but the rain this weekend, getting everything a good soak…. that was awesome.
At the same time, I've seen friends grapple with real drought this weekend through posts on Facebook. And it occurred to me that while I've been moving, although I've been posting to Facebook and Twitter, I was missing a lot of posts by friends and family.
Spending the last few weeks in full blown insanity of a move, I have to admit to having broadcasting more messages than I've been reading. I think we all get there. I've been taking a little time each day for the last several days trying to catch up with various people. Seeing what everyone else has going on. And I have to say… I'm a tad embarrassed. Tweets like the one at the start of the article show I wasn't getting the big picture.
Drought is a common problem for those of us who work in agriculture. Georgia and other areas of the Southeast have been in such drought conditions for the past few years, that I can picture the map of the water table when I close my eyes. And farmers in Texas and Oklahoma have lost their crops due to the lack of water as you can see in this video. Nobody in Texas or Oklahoma would begrudge me the rain I was celebrating.
But I feel incredibly guilty as I know multiple friends have been uprooted from homes due to fires threatening their neighborhoods. These are neighborhoods that I consider part of major cities, not something remote in the middle of nowhere. This is not something we are used to in suburban or urban America. Fire fighting in the city is usually contained — we are lucky enough to have different resources, including professional fire fighters, the latest gear & equipment, and access to backup resources.
The status updates I've seen are fairly straightforward even if they rip at your heart. College friends Denise and Mark had barely celebrated her birthday when the news started coming through on Facebook:
Large grass fire on the way. Packed up pictures jewelry and animals. Mark just got home. Waiting for further info.
Under a voluntary evac. Ready to go. Watching the news. Jeri isn't home. Cars are packed. We will leave when we need to.
Left our home. At the cracker barrel on 1-35. Ashes were all around. The wind shifted. I have the dogs and one cat. Mark is still at home but will met me here. Please pray for our home.
My house stinks. Everything still packed. Hoping the winds calm down.
Wow. Governor Fallin just said 457 firefighters were fighting our fire last night. 25 counties helped us out!!!! Thank you sooooo much!!!!
Why does it smell like smoke again at my house and why r the helicopters back?????
We were happy when news came back that the OKC fire fighting had been successful and Denise started talking about the football game and later "With the cooler temps have the windows open and airing out the smoke smell. Getting ready for Labor Day dinner with my family tomorrow!!!!" But then today I realized another friend is having a similar issue miles away in the Austin, Texas area. The fire there has already destroyed close to 500 homes, according to news reports.
Thanks to all friends that have offered place to stay and help. Please pray for all the people effected by today's fires and to keep all the firefighters safe as they try to get fires contained.

Got a report from someone inside Steiner that house is still standing. Firetrucks are on our street to fight fires behind in greenbelt. Also been monitoring scanner and helicopters are dumping water behind our house and in area behind lower Halsell.
I hope Dallan and his family will also soon be talking about things like football since I first met Dallan when we were waiting to meet legendary college announcer Lee Corso, I know Dallan would enjoy the topic too. It would be fantastic if we had a good couple of soaking rains to chat about!
Related articles
After I posted this, Melissa Laurent tweeted this map that puts the fires in Texas into a graphic…. please note it is a state specific map so fires in neighboring states are not indicated.