Like most people, I love those weekend days where I can choose what all goes on my agenda. And I won't lie, Saturday brunches are a longtime favorite way to catch up with good friends. You have the ability to eat at a truly relaxed pace. You either cook what you have been craving or can go to a local restaurant and enjoy the menu that includes things I rarely make at home. It is so different from my routine of eating yogurt, fruit and granola at my desk as I get my weekdays started.
Now that we have cool fall weather, mornings at home are likely to start with a nice warm cup of chai… that protein boost from milk makes all the difference! And while I won't be making my family's chai recipe in bulk, I always have the milk frothed big time!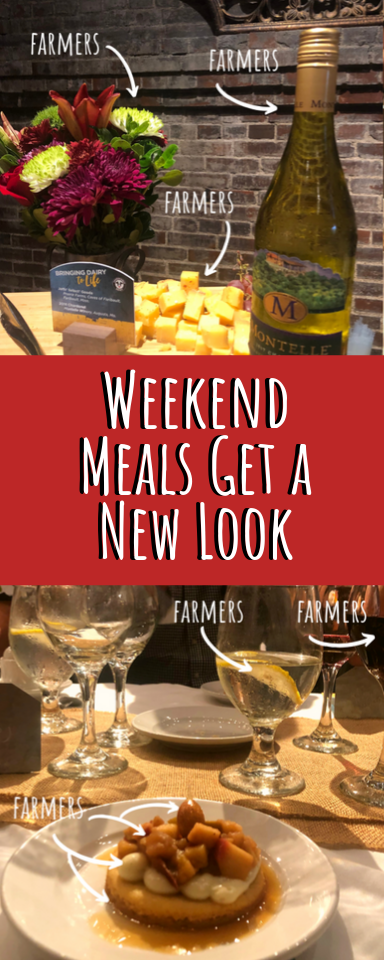 But this Saturday is different. This Saturday, I want to remind myself to think beyond the menu and the plate. I want to think about some of the people who's work helped make it happen because this Saturday, October 12 is National Farmers Day.
This post is sponsored by Midwest Dairy, an organization that invited me to a dinner last week & plied me with all the cheese, butter & cream a girl could ask for! And they gave me the heads up on National Farmers Day. They are sponsoring the post but all the thoughts are mine. They were nice enough to provide me some photos.
Daily Food Thoughts & Visuals
I love food. I don't always think about the work that goes into the food I enjoy. But reality is food is a part of my day, there are lots of other things I have to think about. And even when it comes to thinking about what goes into food, sometimes I'm more focused on the convenience of something on the run, the experience I am having at a great restaurant, or maybe the people we are celebrating or even mourning as we eat.
Farming is something I love deeply too, but in my neighborhood in St. Louis, the visual cues around growing food are totally outnumbered by the marketing messages. Within a mile of the house I have shops, restaurants, bus stops & buses and lord only knows how many signs. The summer months, as I try to have a container garden that produces those homegrown tomatoes & peppers I crave, it is easier to think about but this year I gave up early. Spring was relentless with the rain & I just couldn't get motivated. I don't mind saying, it is precisely a fall like this that I need to slow down and pay a bit more attention to the people who dealt with that weather first-hand.
Working with farmers throughout my career, I realize how many of them spend all day thinking about what it takes to produce food, not just on their farms but across the country and around the world. They are the original environmentalists… recycling (even upcycling) everything they can, fixing others and paying attention to all the details when it comes to their cows, crops, soils and more. And I remember for me, when I lived in a rural community and talked with farmers while gassing up the Jeep or while waiting to buy a ticket to a movie… really anywhere I went! A farmer was there too and we'd always talk about what's happening with their farm & their neighbors. It's a passion that they live day and night.
Driving from home to town meant passing rice fields that were a bright green one minute, deep green the next and eventually pure gold. Wheat did the same thing at different times of the year. I had to keep the wiper fluid topped off cause the bugs would cover a windshield in no time and I could see the farmers fretting about what they should do as they counted bugs and thought about thresholds of damage they could take. And I'd see cows out on pasture. But even after all these years of working alongside farmers, I never developed the constant awareness of my environmental footprint. As I heard these farmers at dinner talk about the land & herds their family has tended for generations, I couldn't help but feel like it is people like me who need to do more in our daily lives.
Picture Perfect Happy Hour
Those images seem so serene from the seat of a convertible speeding along but I know farmers also have to put in the long, hard hours too. That was clear at the Bringing Dairy to Life dinner Midwest Dairy invited some St Louis bloggers too. Although the photos of their farms look so peaceful, and you know I have visited some great dairy farms myself, when I hear they get up at 4 am to start milking, I have to say the peaceful image is burst to bits! My head just keeps shaking and I can't stop saying no. I mean, I appreciate a good sunrise when I am at the beach or something but daily working before the sun comes up? That doesn't sound dreamy to me at all but I swear, every farmer there said it as carefree as I'd say I need to take out my recycling today.
Maybe that is because the dinner Midwest Dairy hosted and got Prairie Farms and Missouri Wines involved. Just let that sink in for a minute… dairy and wine for happy hour…. dinner…. dessert…. Have mercy. Just look at this photo I shared from the happy hour.
Yes. So as you see, chef Rob Lagerlof from Prairie Farms gave us the run down on some of the dairy products they used that night. This gouda was fantastic. I have eaten my fair share of gouda I guess, and have really liked some of the smoked goudas, but this one was different. The flavor was stronger but still so smooth and according to the chef, the aging process brings that out. And thinking about it hanging out in a limestone cave? You know that sounds cool! I'll look for Jeffs' Select Gouda when I hit up the cheese counters. There was also a blue cheese that my friend Danyelle from The Cubicle Chick preferred.
The wine pairings really worked too, it was great having Missouri Wines come out. And it got me back to the reality that I have yet to write a blog post about my VERY limited experience as a grape harvester this fall. I really am much better suited to drinking the fruits of the labors of machines harvesting.
Dinner with Dairy Farmers
Once we moved to another room, where placecards awaited us and we sat down, we began rotating between conversation with those we were seated near, listening to the chefs describe the incredible course coming our way and hearing the stories of several of the farmers. We were getting food that was nutritious, sustainable and damn tasty! I kind of felt like I hit the lottery as I ended up seated directly across from a farmer — Michael Turley of Rolling Lawns Farm in Greenville, IL (that's about an hour away he tells me). It seems clear Michael will cross my mind on National Farmers Day as will many others — I have a Farms A to Z!
I mean, when you are enjoying an artichoke parmesan custard or beef chateaubriand (just thinking about the creamy mushroom heaven that was on that beef…), you really don't have to talk to be happy. But how could you not talk when you are that happy. Yes I mentioned my visit to a mushroom farm as that course wowed all of us. We all traded stories of great meals, favorites we have and our jobs, families, etc.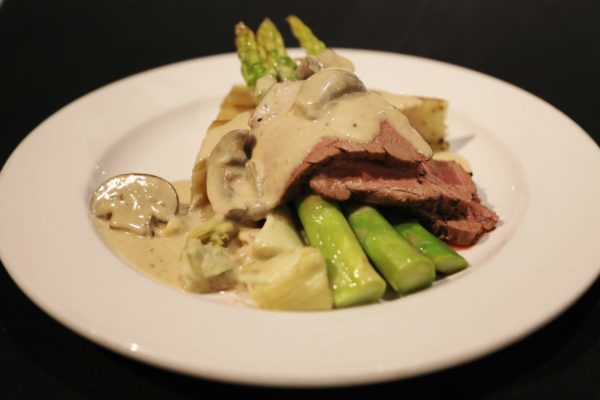 Michael told me about his family's fifth generation farm and how he and his wife lived and worked in St. Louis for a longtime, but he always wanted to get back to the family's dairy. We talked about the fact that some of the cows in his herd can be traced back to cows in Europe (my mom and I tracked ourselves back to people in Europe with 23 and me, but so wild to know they keep detailed information and genetics records on cows that way)! He said really knowing the cows, calfs and land was critical to every farmer. I invited myself to his farm in the future and I can't wait to see the farm in person….. it's why I asked if I could get a picture. When I meet farmers, I always want to see them in the place they feel most at home, most themselves. Michael is totally comfortable in St. Louis, seems to really like it, but look how he is with that Holstein.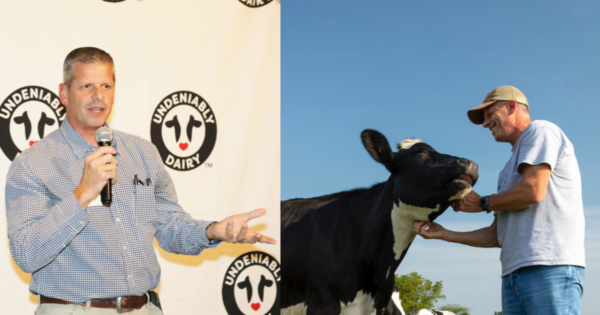 With All of That in My Head….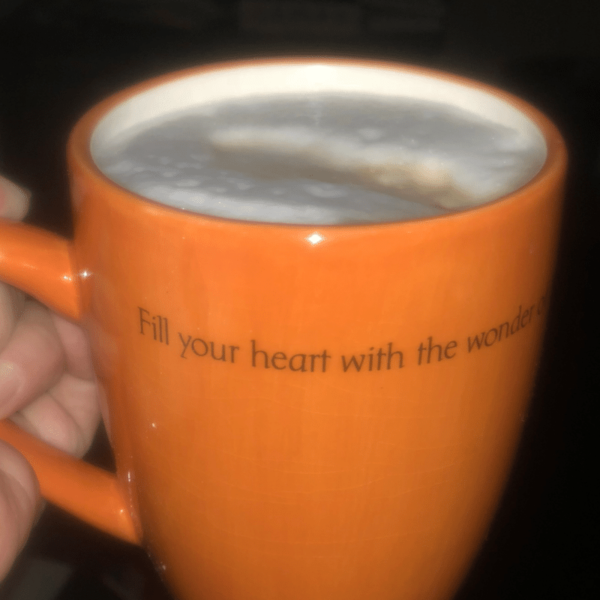 I guess you can understand why this Saturday, National Farmers Day, I am going to try to be more mindful of the farmers involved in the food I enjoy (or the food that simply calms my hunger while I am on the run).
I'm not sure what all Saturday will bring — that's part of the beauty of weekends! Could be that fall favorite for me a chai latte to start the day with tea and dairy farmers in mind or could go with a mimosa and think about citrus groves and grapes. Just pondering the various types of farmers involved gives me a rush.
Celebrate National Farmers Day — Track Farmer Connections on Saturday
If so, and you are willing to share it on social media, please use #nationalfarmersday or even share this post so folks know what's happening and why you are looking at your plates, glasses, cups, etc a bit differently.
And if you want to keep some of this going, there is a great magazine called Half & Half we got a copy of. If you use the code MIDWEST you will receive recipes and farm stories quarterly!