Disclaimer:  I got some of the plants, experiences and connections to my backyard garden mentioned in this article through my work at Monsanto. This post reflects my personal opinions and I'm writing it just cause I want to like I always do. 
As I mentioned earlier this summer, I decided to do a container garden again this year. I have done varying amounts of gardening over the years…. Hard to believe I wrote about graduating from containers to raised beds and then in subsequent years did almost nothing! Growing herbs has been a mainstay but the last couple of years I had gotten wimpy on my backyard garden.
Part of the motivator was the #HeyLetsGrow effort at the office. Earlier in the summer, I was celebrating all the sweet tomatoes I was harvesting. I think then the combination of some extreme heat and my travel making it hard to get watering just right…. well, the tomato plants haven't been nearly as productive in the past month.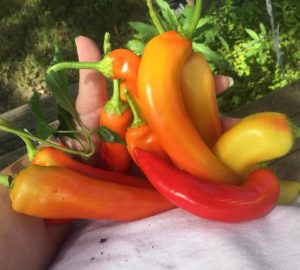 At first, I wasn't sure if I had lost the garden. But I got back on a good watering schedule and I soon started picking peppers! I've had a few plants producing jalapenos, serranos and all, but the plants that are keeping me on my toes trying to use all the fruit I pick are the Hot Sunset and Sweet Sunset peppers (a Monsanto product).
I have been picking lots of peppers! Sweet peppers that I could eat by the dozens and some hot peppers that I eat a bit slower but love! The photo at right seems pretty representative of what I can pick each weekend now. Last weekend, I simply cut a few open, filled them with cheese, wrapped them in bacon and grilled them for a few minutes. Oh my I was happy!
Learning about Peppers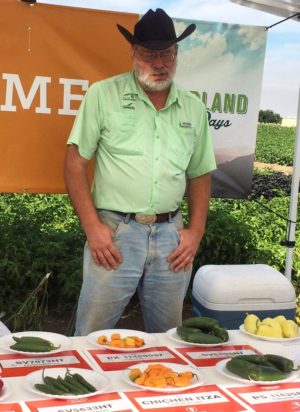 I've learned a lot about peppers the last few years since I got to work with the vegetable business. Not only have I had a chance to visit with some farmers who grow peppers on a big scale — check out Bailey Farms in the Southeast and Hill Farms in New Mexico — gotten to know Terry Berke, a colleague who's a pepper breeder and who developed the ones I planted this year.
Here are a few of the things I have learned in the last few years:
As peppers mature they turn from greens to oranges & reds. When you pick them depends on the flavors you like.
Hot peppers get hotter when they face stress so letting them go without water a bit is fine as long as you like intense flavors.
Have you ever noticed lines on jalapenos? If you are like me, when you are in the grocery you probably picked the glossy green ones instead. Those lines may look less awesome, but they were stressed while growing. They may be warmer than some of the others!
If you are going to try growing peppers, one way to find some that will work in a lot of environments is to look for the All-American Selection winners. AAS is an independent non-profit that provides information on varieties and hybrids that are doing really well. You can search past AAS winners through the database on their website.
There are some really yummy peppers…. thinking about fresh, roasted, etc. You can grow them in pots easily!
Before you go…. tell me, how do you like your peppers?
If you'd like to hear more tips, here's a #gardenchatter video Bren Haas did after meeting Terry.