I was traveling when they did the opening ceremony of the Olympics and turned it on at a hotel and as the parade of nations started, I thought really? I heard the commentators talking about all the stuff that had been going on in the world rather than the athletes. I turned it off and wondered whether the Olympics would be the focus for my TV time.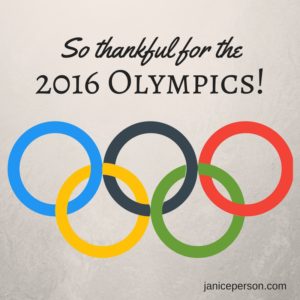 Well, I shouldn't have wondered. The athletes have come through and really brought out that Olympic spirit that I crave!
I feel pretty sure that the Summer Olympics are the antidote I needed after so much media has been devoted to negative stories, particularly about politics. I haven't noticed the timing in the past but holy moly this is exactly what I needed.
If you aren't watching the Olympics tonight… you are missing an opportunity to feel really good about the world and the people we share it with.
People who have worked incredibly hard to achieve their goals. They are focused on challenging themselves far more than the ones they are competing against. People are celebrating accomplishments rather than pointing out the failings of others.
Love that the face of sports is changing. That the American athletes look more like our communities than ever before…. Ink, blue hair, all kinds of racial backgrounds, families that are unique and supportive, thankful…. I really needed this! 
If you've been watching, what's been your favorite part?
[clickToTweet tweet="Are you watching Olympics? I am, love the good vibes! " quote="Are you watching Olympics? Share the good vibes! "]