My nephew Jake had a Flat Stanley learning adventure that turned into an Flat Stanley farm adventure for a lot of my friends and I too! So many people spent so much time helping Jake learn more about this incredible country of ours that I couldn't let it be confined to a book somewhere. I really wanted to share it more broadly. So slowly I started posting them here on my blog. It's taken a long time but we're finished!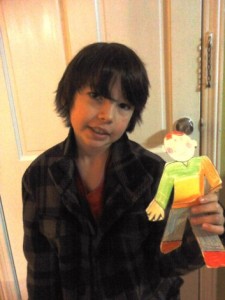 Starting the Project
We got this all started by a simple blog post asking if anyone was willing to help me get a series of adventures together for Jake's class & his Flat Stanley. The blog posts below provide that plea and some of the earliest thoughts around what was coming together! I love how many farm adventures he had but he also got city time!
The Adventures
To help you find some of the adventures that most interest you, the following list of links & intros were pulled together.
Jan Hoadley of Slow Money Farm in northern Alabama — Jan has a great small farm. Its a real passion for her to help others learn about the way she does things from raising rabbits to communications. She also grows & dries herbs like rosemary and I can tell you, the aroma had to encourage Stanley to jump right in! And the photos of Stanley with her chinchilla (a type of rabbit which I recently found out even some adults didn't realize LOL) draw you in in a way that few could possibly do! To see lots of photos and the full story of the visit with Jan, click here.
Jecca Ostrander who is a RanchWife4Life and works with Box O Quarterhorses in northwest Nebraska took Flat Stanley along on chores with her son Stetson one day. She also took time to teach him about the Sand Hills and the Ogallala aquifer! Lots of photos on this one to help my nephew get the feel of a very different area of the country! Continue reading ?
Debbie Lyons-Blythe lives on a Kansas cattle ranch not too far from Manhattan, Kansas. She took Stanley along one day as she was doing chores on her ranch. Doing water chores with such cold weather was made a bit easier with some sunshine. He learned about taking care of Debbie's cattle (and soon you'll see more ranch adventures). Continue reading ?
Memphis! Take Me to the River, Sun Studio & the Peabody! — Memphis, Tennessee (644 miles from home) Welcome to Memphis, TN Ms. Rorie's Class and Jake! Flat Stanley came to visit me in Memphis, where I am going to college to be a teacher.  We went to a bunch of …Continue reading ?
Thanks from Jake
Jake wanted to tell everyone thank you. so he wrote this great letter to all the folks who hosted Flat Stanley & sent back stories of the adventures he went on!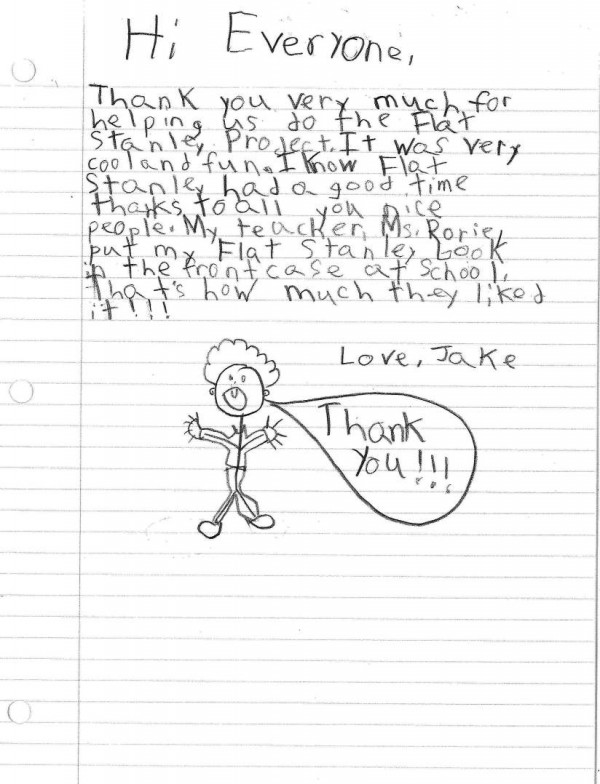 When you read that… make sure you look at the end. Here it is all typed and impersonal:
Hi Everyone,

Thank you very much for helping us do the Flat Stanley Project. It was very cool and fun. I know Flat Stanley had a good time thanks to all you nice people. My teacher, Ms. Rorie, put my Flat Stanley book in the front case at school, that's how much they liked it!!!

Love, Jake

Thank you!!!
Jake's book was pulled as being one of the best in the school and they've put it in a display case at the front of the school for a while! (He used THREE exclamation points for that!) He also told me that during the time when everyone in the class was able to look at other kids books, his was the one that got the most attention from several kids. He said that a lot of his classmates didn't know that his family knew so many farmers but he knew I did! LOL!
My Sincere Thanks!!!
It doesn't feel like saying thanks is enough for all the people who have come together to help Jake's class learn about so many different places and activities! No doubt, the stories will shape his world for years to come!