Whether following in the footsteps of great grandparents or setting out on a brand new direction becoming the first to farm, each farmer has a story. Throughout the month of April, the stories of various farmers and farms were featured here.
As I started the Farms A to Z project, part of the goal for me was to simply finish the challenge on schedule going letter-by-letter, doing blog posts six days a week (particularly important since the Agriculture A to Z and St. Louis A to Z took much longer than they should have!). The other part was to develop solid content about some of the farmers I've gotten to know over the last several years. I surpassed the goals by far!
One of the unexpected benefits of doing the challenge? The immense motivation I got from interacting with so many farmers, most of whom are online. Here's a video that shows photos of the various farmers and includes a few more of my thoughts on the topic. As you watch… if you see someone who's story you want to hear more of, you'll find a link below!
Thanks to fellow St Louis blogger Danyelle Little aka The Cubicle Chick for the idea on doing a video recap!
This video recap was a first for me… I already have ideas for doing some more of these kinds of things! I used to play with video a lot when I was in college and have been enjoying doing a little bit of it here and there on Instagram, Periscope, etc.
Looking forward, I'm already considering whether I will do another A to Z blogging challenge next year. But for now, I'm looking forward to getting back to a couple of posts a week. Sometimes about travel, sometimes about cotton or other parts of agriculture and sometimes just something that I have on my mind.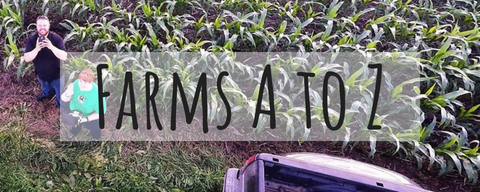 Since the challenge is complete, here are links to, and the first few lines, of all 26 posts! When you look at all of them together, you see connections and you see differences. This collection of farms and farmers is a microcosm of what you see when you look at the people across America who grow the crops that end up at farmers markets and on shelves at grocery stores.