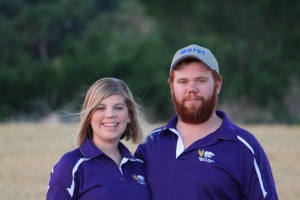 Jake and Jessie Wyrill joined Jake's family farming in Kirwin, Kansas as they graduated from Kansas State and got married. The family grows corn, grain sorghum/milo, soybean, wheat, and alfalfa. We also raise Black Angus and Hereford cattle.
What's one thing that makes your farm unique?
We are blessed to have the opportunity to farm with my husband's whole family. We have six households farming together. In this day, it is great to be able to work alongside family.
How did you get into agriculture?
Jake and I grew up on our families' farms. For Jake, farming was always in the plan. I had other plans originally. I thought I would study to be a wheat breeder and stay away from the family farm. When severe allergies changed that plan, I realized farming with Jake would be the perfect life for me. We are loving our life on the family farm in Kirwin!
Connect with Jessie & Jake Online:
Farms, Farmers and Farm Blogs A to Z
Step-by-step, we are getting to know various Farms, Farmers and Farm Blogs in this A to Z series. Do you have things you'd like to know about these farms? If so, please give a shout in the comments or feel free to go direct to the source too! And don't forget not only are there other letters coming up, but there is a long list of farm blogs here too!