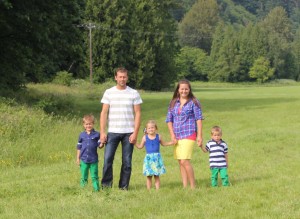 There aren't many farms in my world that start with the letter I… maybe that is cause farmers tend to work with family members and others in their community and while it frequently involves independence, few farms would use words like that even in a blog. But "In Udder News" is the kind of play on words that is the perfect fit for something that starts with the letter I!
Johannes and Julaine Treur operate Creekside Dairy and In Udder News helps those of us who may not be on the farm in Agassiz, British Columbia, Canada everyday keep up on what's happening!
We grow corn and grass — the corn for silage (animal feed), the grass for pasture and silage.

We also milk 80 Brown Swiss/Holstein crossbred cows. Our entire farm is in the third year of transition to certified organic – we will begin shipping organic milk on November 1.

In our area, there are very few first generation farms. Most have been handed down through the generations. While my husband comes from a long line of dairy farmers in the Netherlands, he is the first to be farming here in Canada. We also are one of the few organic dairy farms in the province.

I think that the best part of farming is being with family. My husband and I are a team, we work together to provide the best possible care for our "girls" (aka the cows), and we hope that by showing this type of example to our children they will be inspired to follow in our footsteps someday.
Connect with Creekside Diary on Social:
Farms, Farmers and Farm Blogs A to Z
See the rest of the Farms, Farmers and Farm Blogs A to Z series. project. I'm enjoying getting to know some of the various farmers I have met briefly online as well as featuring some of those I've known longer. Who will be up for the letter J?