The farmers featured today… I interact with all of them frequently online. They are involved in their communities and busy with family. They have such a clear passion for raising the food that ends up in restaurants and grocery stores. And they all have last names that start with the letter "O" for my farm A to Z.
Katie Olthoff doubly deserves to be included on this post. Not only does her last name start with O, but so does her blog — On the Banks of Squaw Creek. Katie farms in Central Iowa where her family grows turkey for one of the largest sandwich chains in the US.
What's one thing that makes your farm unique?
We grow a LOT of turkeys – more than 100,000 every year.  When people hear that, they assume that our farm must be huge.  While it is big, it is still a family farm.  We have one employee, who is a close neighbor.  The rest of the work is done by my husband!
How did you get into agriculture?
I married into agriculture, but I didn't know it at the time.  Although my husband grew up on the farm, he had no intention of farming.  But, things changed, and here we are!  Everyday, I learn something new about agriculture, and with two little farm boys, life is always an adventure On the Banks of Squaw Creek.
 Check out Katie online:
Carolyn Olson – Olson Organics of Cottonwood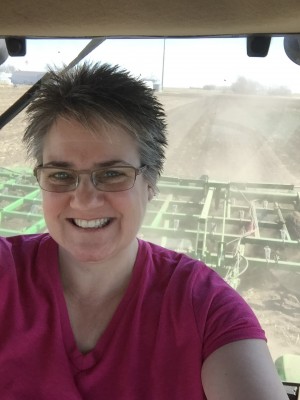 Carolyn & Jonathan Olson farm on what was started as Fairview Farm in 1913 — they learned that bit of history  when they discovered they had become a century farm. The farm, in Cottonwood, Minnesota, is where they grow organic field corn, soybeans, wheat and conventional pigs (they are raised in barns).
How did you get into agriculture?
I grew up in a suburb of Minneapolis, and became a farm wife when I married Jonathan 26 ½ years ago. Best decision I ever made! We were married in a drought year, so we cut our honeymoon short by a day to come home and help harvest corn…in August. I have been taking on more responsibilities ever since. I spend a lot of time in tractors in the spring, and run the combine in the fall.
What is the best thing about farming?
I love working side-by-side with Jonathan. We both love what we do, and we love that we can do this together. We both get so excited when it is go time in the spring. The smell of the freshly turned soil, planting the seeds, watching for the first signs of growth…the excitement when you can "row" a crop. In the fall, we both love seeing the fruits of our labor as the crop is harvested. This is one job where you can actually see the results of your work in a very real way.
Carolyn on Social Media:
O'Neal Farms
The O'Neal Family — Kaitlyn who I know thanks to social media, her husband Royce, along with Terry & Diane O'Neal and Jerry & Nancy O'Neal — are on the Texas High Plains. They live in the Panhandle's White Deer, Texas where Kaitlyn writes under the blog name "
Becoming Texan
." O'Neal Farms raises upland cotton for blue jeans, hard red winter wheat for bread, grain sorghum and corn for cattle feed. We also have a commercial cow-calf herd so we have lots of calves running around this time of year.
What's one thing that makes your farm unique?
Our farm is unique because my husband is the fifth generation to farm this land, and we are lucky enough to farm with both his father and his grandfather. It can be challenging to work so closely with your family, but it is also such a blessing! We are able to bounce ideas back and forth to get multiple perspectives, from Granddad who has been farming since the '50s to Royce and I who look at challenges with fresh eyes.
What is the best thing about farming?
To name just one "best" thing about farming is really hard, but to me, having the opportunity to be a caretaker of the land, our crops and our animals is absolutely amazing. As farmers, we are given the responsibility to tend our crops, animals and land. We interact daily with nature and learn to appreciate and respect Mother Nature. We can't control Her, but we do our best to conserve our livelihood and Her beauty for future generations. Royce and I have been given great role models in his family to learn the importance of thinking of the future, and we will do as much as we can to make sure our future children and their children can choose the same "job" as us.
Kaitlyn's Social Media Presence Includes:
Farms, Farmers and Farm Blogs A to Z
Another day in the A to Z Challenge is done! This is definitely a record for keeping on schedule! Maybe I'm enjoying the Farms, Farmers and Farm Blogs A to Z more than others but I can tell you for certain, getting this planned out months in advance and recruiting farmers to help me is most likely the reason it is on track! We have a lot more awesome farms to come! Subscribing to the emails will allow you to get future posts without visiting the site. Go ahead… you know you want to see the rest of the alphabet! And if you want to find even more great farms, check out this list of farm blogs!