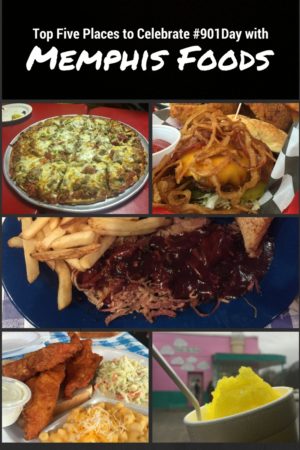 It is rare that I am on Twitter and see a few tweets, choose to do a series of tweets that really should be a blog post. That's exactly what happened tonight as I saw friends talking about #901Day — since 901 is the area code for Memphis (my beloved hometown), it is a great time to celebrate my hometown. I decided to celebrate by sharing some of my Top 5 Memphis foods!
And it seems that folks may like more information that easily fits in a tweet, so let me break this down some more. Since I did a series of five tweets, I'll talk about my top 5 Memphis foods (diets be damned!).
Process for Deciding Top 5 Memphis Foods
There are lots of foods that given a specific time of day or specific food craving I'm having, could be on my top list but I decided to keep this to foods that can be eaten a large part of the day (I do love Howard's & Gibson's donuts in the morning!) and don't face seasonality issues (cans someone say crawfish?).
This top 5 is a list of foods my family enjoys fairly often…. as locals and as a way to welcome back those of us who have strayed too far from the 901 to get these foods nearly often enough. I'll note, these aren't in a specific order because I think it depends on the day which I'd put at the top. So I'm going to let however the computer throws the photos in will decide.
Central BBQ
I will be the first to admit, there are lots of good barbecue places in Memphis, so that food group is critical. And I know some folks will argue about what is the best barbecue… cause different tastes and all, but for the last decade or so, Central BBQ has been the go to for my family.
The plate at left shows the pulled pork with some of our favorite sides (we love our starches… their homemade potato chips are good too!) I love getting a slab for two and splitting it with a family member. I will note, we always make sure to get Texas toast cause the rolls, they aren't the kind we love. And the desserts are the absolute most! That caramel cake… oh man!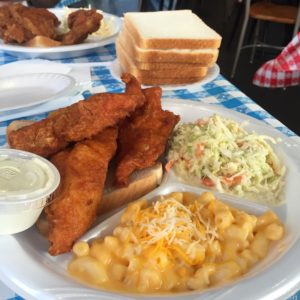 I can't begin to count the number of times we have gone there to celebrate birthdays, homecomings, etc…. and there is no better place to watch Memphis Tiger basketball. The Summer Avenue location has both counter service and full service.
Gus' Fried Chicken
The legend of Gus' Fried Chicken is spreading to cities outside of Tennessee, but its a Memphis thang. The spicy fried chicken is a local staple and you go there for spicy chicken…. don't think you will have a burger instead. It is a chicken place. Serves amazingly good fried chicken and sides to go with it.
I have made it a habit to stop at Gus' in Austin when I'm in town for SXSW, etc but I love that I can get it in the St. Louis area now too.
[clickToTweet tweet="Trying to decide which of the Top 5 #Memphis Foods I want to try first! " quote="Let your friends know you should start planning a Memphis trip! "]
Broadway Pizza
I'm going to tell you now, Broadway Pizza isn't likely on the mainstream lists about Memphis foods. Those lists are either overlooking a local gem, or trying to keep the good stuff for themselves. Broadway Pizza is in an area that used to scare friends not from Memphis, now the area is the place to find hipsters. And they recently opened a second location too. But we never have gone for the neighborhood. We go for the pizza….. Around the World Sausage in particular (it was even on my pizza poll years ago)
The crust is thin and cooked to be crisp which is truly impressive knowing how they load the toppings up! The crispness of that crust compared to the deep bites of sausage, pepperoni and veggies…. I can taste it now! They also have a good barbecue pizza friends always order. And they have a lot of other things… in fact, the truly working class neighborhood had this as the go to for burgers, catfish, etc for years. It is all good.
The family that runs Broadway has been doing this for generations. I remember coming as a young teen and being in awe of the many karate trophies the owners' teenage daughter was winning. They were EVERYWHERE and she was just older than my sister and I. She's running the place with adult children now. Yep, we have four generations of our family eating pizza from at least three generations of the family of owners!
Huey's Burgers
A good burger and fries or onion rings is always high on my list! I can't remember when I first ate a burger at Huey's, but I have lots of memories of the place and food going back to my college years at least! And some of you may remember that even Flat Stanley went to Huey's years ago!
The burgers at Huey's range from a standard one to lots of combinations. When I was home a few months ago, I had the Blues City burger shown here (bacon, cheese, barbecue sauce and onion straws!)
I can remember a time when there was just the one location in Midtown but also remember celebrating as other locations opened up. If you are a cleanliness freak, you may not want to look up at the ceiling….. for a long time, it has been a game to get the toothpick from your burger to stick in the ceiling tiles. If you are new to it, ask your server to get you a few extras and to give you a few tips. It's harder than it sounds and the feeling of accomplishment is significant even if it sounds silly.
Jerry's Snow Cones
For people who haven't grown up in the south, you may wonder how a sno cone place could be on the top 5 places to go, well, it may not be everywhere, but in Memphis, Jerry's Snow Cones is worth the trek. No it isn't near anything else you will go to…. yes, you should still go. No, I'm not kidding. And if you have to wait in line, take a minute to look at the school across the street and try to picture second grader Janice there. That's where I went to school the first year Memphis had a busing program to integrate the schools. Its about that time that Jerry's opened.
Jerry's is legendary. A scene from "Great Balls of Fire" was shot there. The snow cones have a lighter shaving of ice than most any place. And there is a wide range of flavors. To the left is a mango snow cone I had. Some of my family members love wedding cake. And if a snow cone doesn't get you geeked up, ask for it supreme (with a plop of soft serve ice cream!)
In the summer, the lines to get a snow cone are long….  The 30 minute or more wait makes you want an even bigger snow cone! You can also get burgers, fries, etc and they are pretty good too. Take cash cause they don't mess with checks and cards.
What would you add? Questions?
I am sure that there are places people think should be on the top 5 list… I'm willing to hear you out on suggestions. I will say, my choices are very much "inside the loop" cause I'm from the city not the burbs. If there's a certain kind of food you want while you are in Memphis too… just shout, I always have suggestions as do the rest of my family & friends!