I was home last weekend (seeing my peeps & eating all the yummy Memphis foods!)  #901rocks tweets had been in my feed but my sister had already gotten all involved in the 901 rocks fun! It is a really cool idea started by some folks who enjoy Memphis and thought something as simple as a rock hunting around town could spread enthusiasm. It definitely has!
A Rockin' Idea
I love that a couple of women came up with an idea that celebrates my hometown with such simplicity and creativity! How easy to participate! No smart phones needed, etc.
The founders — Lisa Dawson & Amy McSpadden — put the idea out on social media according to a story on local TV. The tweet that McSpadden put out was simple enough… it is of a painted rock that says #901rocks and asks for people to share it on  social media & choose whether to keep or rehide.
Its been two months since the idea started and it grew quietly for a while, with a few adults doing it but September 1 was the official "Rock It" launch. And it is totally viral now with families having fun together. People are spending lots of time painting, hiding and hunting rocks. And others, like a cousin of mine find them and wonder what the hell is up so they post a question and are shocking to find out that thousands of Memphians are in on this — the 901 Rocks Facebook group has more than 14k members!
The simplicity of the idea and execution …. makes it so much fun and so easy to join in on!
My First 901 Rocks Experience
Leslie had a box of 901 rocks for us to pick from!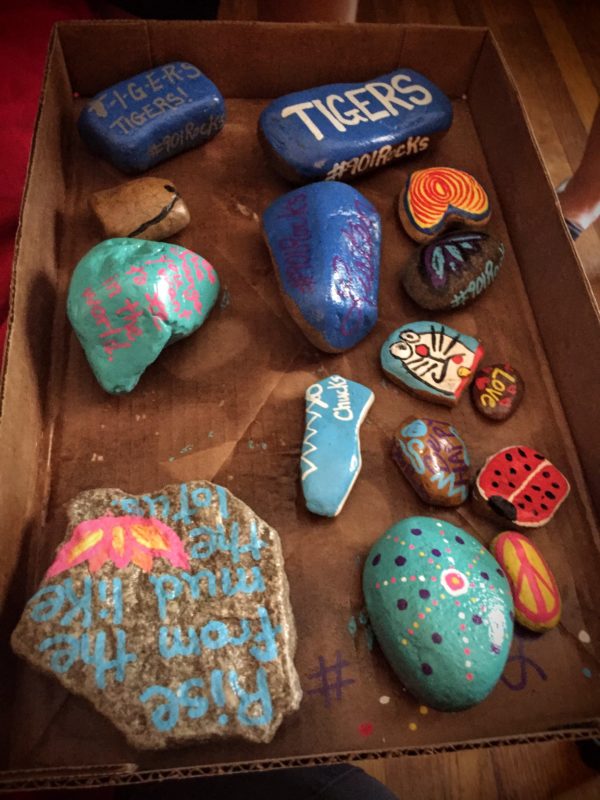 So as you can see, Leslie had painted a variety of rocks. She did it with one of her meetup groups a few days earlier. It's pretty cool to see the different ways people decorate the rocks! She painted a lot of different sizes and played with various colors, themes, designs, etc.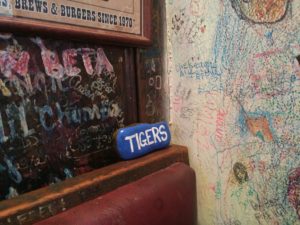 Since Ayaka and I were headed to Huey's for lunch, Leslie said we should take a few rocks to hide. We weren't too sure what it was all about, so we didn't really know what we were doing, but the rocks she had were awesome and each of us chose a couple!
As we went in Huey's, we were looking at hiding places…. do you put them in easy to see locations or make them hard to find. We decided to eat while we strategized. Oh, and sis nailed it with the first toothpick she tried (see video in the link).
We thought about whether we could leave one inside the restaurant cause it would look so cool. I mean, check the photo! We mentioned it to our waiter and he said we should stick with putting them all outside as the cleaning crew probably throws stuff like that away. Gotta appreciate the hint but also wonder who could possibly throw that beauty away!
See Some of the #901rocks Fun
Since I only had a couple of photos, I asked whether others in the 901 rocks community would be wiling to share pics with me for the blog post. It didn't take long and I was overwhelmed with friendly folks… here are the photos that were shared quickly!
Join the 901 Rocks Fun
Let me start with saying, as far as I can tell, you really don't need a how to on this… it is fun, and it celebrates the city & area code that will always be one of my homes. If you think Memphis rocks and you are in the area, you qualify! If those don't match up, maybe you could some up with something fun for your hometown or a city you love.
Paint some rocks.

Guess you need to find rocks first. Some are picking them up out of their yards, etc. others are buying small bags at hardware stores and landscape shops.
Paint whatever you want on them. Some people have done amazingly detailed art on rocks, other rocks are more abstract (like one my 5 year old friend Piper painted!) I do love the ones with Memphis connections, but then again, I haven't seen one I didn't think was cool!
Put #901rocks on it somewhere so people know to share.
Use a clear coat on top if you want to be sure the design lasts. Surprising how much rocks will rub together when you are carrying a bunch around.
Hide some rocks.

Feel free to put some in the open, some really hidden.
Tip off the Facebook group (or other social media through hashtags) on general areas they may want to hunt in.
You may want to keep a few in the car… never know where you may be that are in need of nice painted rocks!

Find some rocks. 

Keeping your eyes open all around town is a good way to go now!
Check out the Facebook page to see where folks have been hiding recently.
Share your successful finds on social media.
Decide whether you want to play it forward or keep the rocks.
Celebrating other Cities
Love the positivity of this… it is sort of like the kind of fun that people had with the birthday cakes around St Louis. This is more participation but the cakes was a great civic pride moment too. What is happening in your part of the world that leads to great fun?