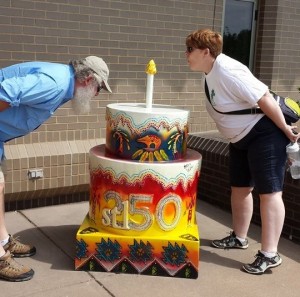 I haven't done a Wordless Wednesday post in a while but decided this was a great opportunity… well at least an almost wordless Wednesday post.
In the past 4 days, my sister & brother-in-law were in town. While they were here, we spent time seeing some of the sites locally. First place we went — the Cahokia Mounds which somehow didn't make the C post in my St. Louis A to Z but will be written about in the near future — had a cake. Cheryl told Jimmy to act like he was eating some of the cake and I pretended to blow out the candle.
There are 250 birthday cakes being put out in the St. Louis metro area to celebrate the city's 250th year. Over the next several days we kept coming across some of the birthday cakes and Cheryl thought it would be fun to see if she could get 10 percent.
It was a really hot weekend and since Nelly's a local, it seemed he had the perfect soundtrack for the photos taken. Now I want to look through my camera and see how many I've caught previously!

PS — you can actually download an app to find the cakes (something we didn't know LOL). There was a great exhibit at the Missouri History Museum about the 250th birthday too — some of the people, moments, images, places and objects that have really stood out in that time.