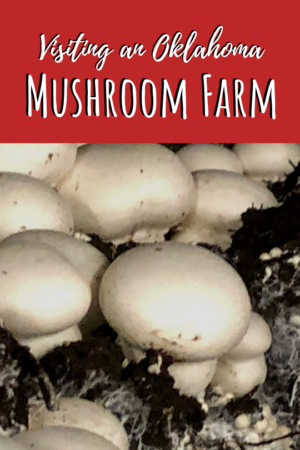 I still can't believe I got to tour my first mushroom farm this summer. It has taken me longer than I thought it would to write this post, but that has nothing to do with my excitement over it and everything to do with my wanting to make certain I got this right!
How I Stumbled into Mushroom Happiness
The way I found this mushroom farm is not recommended. Not recommended at all. I drove to Oklahoma for the funeral of a friend and I was having a great trip until I had car trouble. As my car had problems, I found a hotel and tweeted friends to see who may know someone who could help me diagnose the issue and find a garage to work on my car. It is a long story for another post (ack car trouble in the middle of nowhere), but I ended up meeting a mushroom farmer — that's Terry Jurgensmeyer of J-M Fresh in the middle of the photo — and Matt Thomas, one of the farm's mechanics!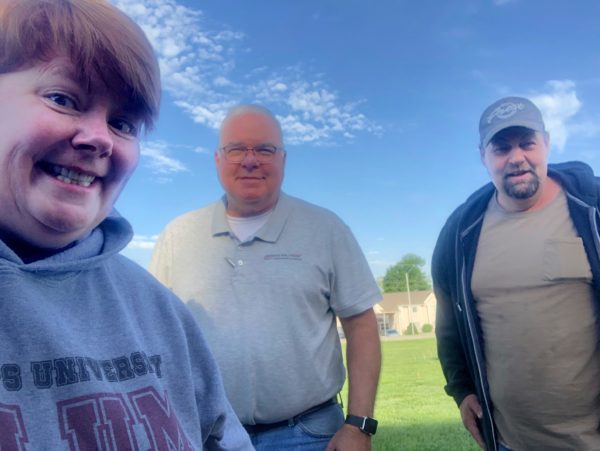 Not only did they help me figure out the car trouble and help me get to the garage that could fix it, I was able to get myself invited for a tour too!
I have to confess, I have heard a lot about foraging for mushrooms. I have some family members who love foraging and I know a few people who have done some small-scale mushroom production. I mean we are talking like a small log or something. I hadn't given much thought to mushroom farms before meeting Terry Jurgensmeyer. As someone who loves mushrooms of various kinds, I am still surprised in myself on this front!
Here's some of what I learned as Terry showed me around.
Farms Start with Making Compost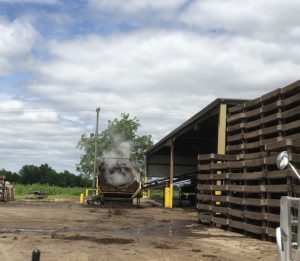 Working with farmers over the years, I have always been struck by the importance of soil to any operation (don't forget soiling their undies). But for mushrooms grown indoors, compost is the medium they use and the family picked the location-based on the ability to make really good compost here. Mushroom farms need access to straw, water and somewhat moderate weather, as well as good utilities.
Terry explains, "The composting is impacted by real hot or real cool temperatures because you want that pile to breathe & draw in the oxygen and take it out. We actually have a system to push air in when we don't have ideal conditions naturally."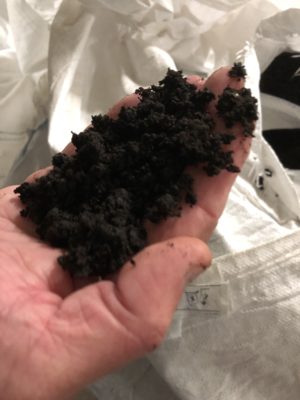 Terry says J-M Fresh has been doing this for decades and have a process that they can use year round. It's important to let the heat and moisture do the work of breaking down the straw. Most of that is done outdoors. Then the compost is brought under a roof to get control of it and ultimately prepare for it to come in the facility.
Planting Mushroom "Seeds"
The compost is brought in and put into trays. It is amazing to think that this rick dark compost was wheat straw just a little while ago!
Then the team adds a layer of mushroom spawn (kind of like seeds) that Terry showed me also have a bit of a medium with them to help them get started. Trays are stacked on each other and put in grow rooms that are kept dark, cool and damp. The farmworkers make sure the mushrooms have their best chance in this nursery environment.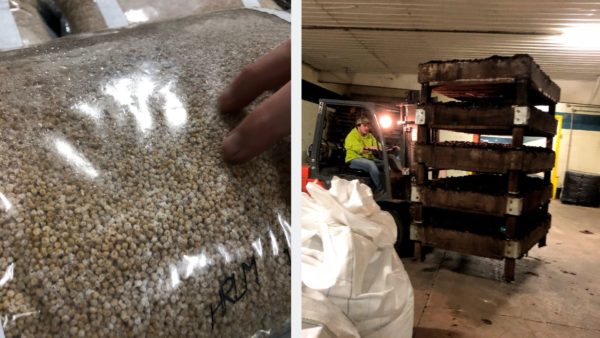 It was cool to see how the mushrooms really just look like white spots as they get started growing.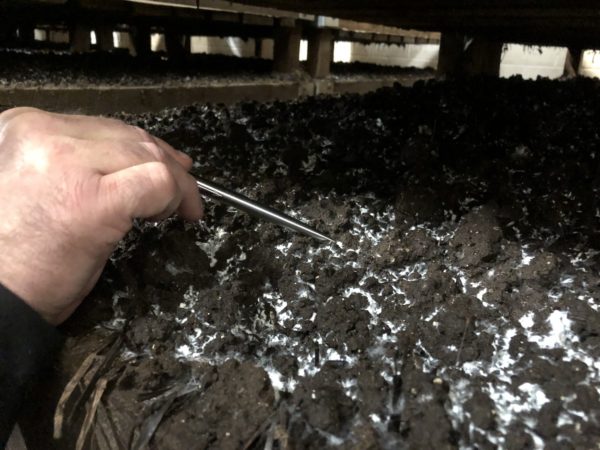 Growing to Size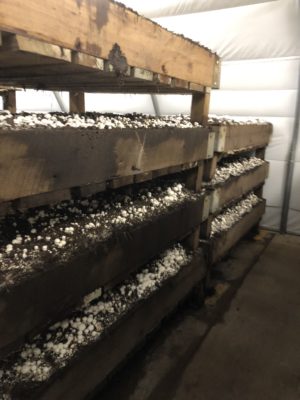 After 12 days in the nursery / growth chambers where temperatures stabilize and mushrooms begin growing, they are less vulnerable to some changes in temps or light. And a total aside from me those nurseries / growing chambers look like they'd cost some good cash to run them! Also, this is a shift in the life-cycle where food safety gets put into place.
So the trays get moved to mushroom farm sites that are like hoophouses but it is odd to have them kept dark. The employees will monitor things and water trays by hand. They are fairly delicate so care is giving when working.
Mushrooms need a good bit of dampness to grow but water on the cap of the mushroom leads to quality issues. Since watering is by hand, the focus is to get it on the compost but that is easier said than done so the farm will also use a bit of heat to dry the caps when they get wet.
I had no idea mushrooms double their size every 24 hours. Seriously. Look at these differences!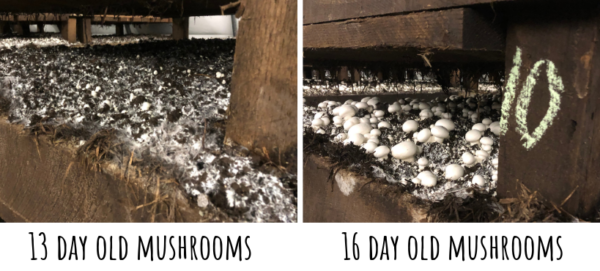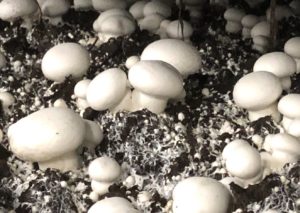 With a variety of sizes in each tray, I asked Terry how are you sure a mushroom is mature? He explained it's stem becomes cylindrical in shape. As they reach maturity, mushrooms are all picked by hand individually.
There are specific size metrics and everyone focuses on harvesting the desired size. Whole mushrooms are picked and are put into the containers that we purchase in the grocery before they leave the farm. Some are put in bulk containers and others will be sent for slicing, etc. And that's where customers like me come into play!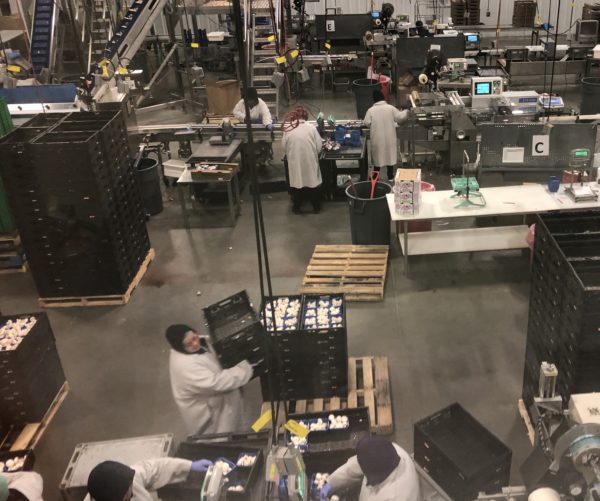 More about My Mushroom Farm Visit
Since this was such a unique farm visit, I asked ALL THE QUESTIONS. Terry was patient enough to not only answer them all but help me understand some things that I didn't think to ask. With that in mind, I have published another post on the topic as well. Hope you will enjoy reading about the other things I learned about growing mushrooms. You may also like to read some of the posts in my Farms A to Z or Agriculture A to Z series.