I love to let people know what I'm passionate about (yes, we've discussed my t-shirts & luggage tags). Today though, another way to spread the love is on my mind. It connects to something even more American than t-shirts! It is our cars & trucks!
I personally have an agriculture license plate on my car. In the city of Memphis you are a variety of plate designs – Elvis, wildlife conservation, St Jude Hospital or any of several local colleges. As I left my neighborhood, I saw another agriculture license plate! LOVED IT!
A lot of other people down here in the South put a Cotton Inc license plate on the front of their car or truck since our states tend to require a numbered plate only on the back of the car.
As I drove up I-55 today I saw my favorite bumper sticker, especially good for National Rice Month – "EAT RICE Potatoes Make Your Butt Big." And as I type this, a pickup with a Genuity sticker pulls back onto the highway towing a grain cart!
What does your car or truck say about your passions?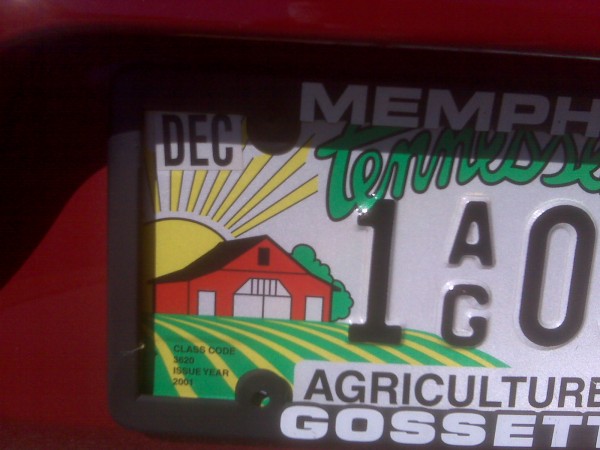 I decided today I'd see how fast a blog post can be written, so I'm doing this one on my BlackBerry while at a gas station filling the tank. Thanks to Amanda Sollman for bringing up license plates last week! Gave me a quick post to do at the pump!