As I mentioned in my first post on Cappadocia, although I was on a tour with a great group of people, I passed on a hike through the Red Valley.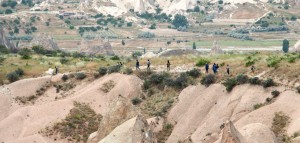 I found it hard to imagine. I paid good money to go on a tour. The tour guide was awesome. The place fantastic. And as I looked out on the valley we would be walking through, I thought how beautiful it was. How rich the history obviously was. And then I just knew I didn't want to take the hike.
It really didn't make sense at the time. I found myself making excuses. It was cool and windy, probably going to rain, I didn't have a jacket. I didn't feel very good. Kezban said it was no problem, the bus would meet the group later. I could stay with the bus.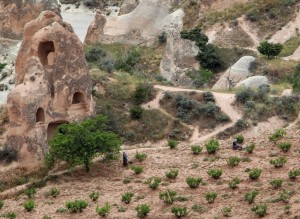 I watched the group walk away and immediately wondered whether I had totally screwed up. I wandered around the area a while as the bus driver visited with other drivers and vendors. That's when I had the chance to see farmers tending their fields.
A couple others actually stayed behind too and I had a chance to get to know Priya and her mom from Rajastan. And I looked around the area a bit. Here are a few of my favorite photos.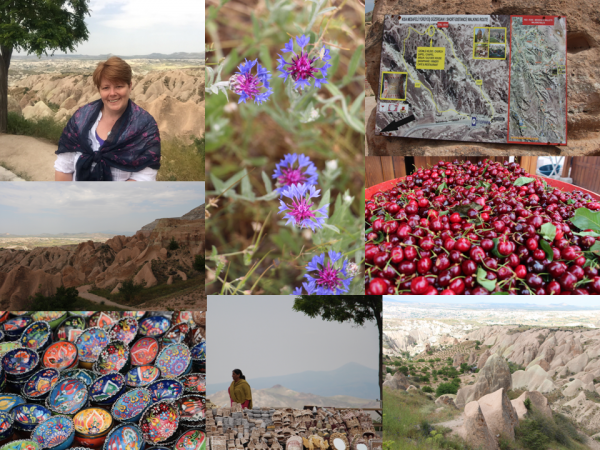 Slowing down enough to notice details sent me a signal… I needed the slow down time to soak up what grabbed me. Once we had driven to the other end of the valley and I headed out on a walk on my own was when I really got it! I had been immersed in so many sights and sounds since arriving in Turkey, that I risked being on autopilot.
This video — which is two short ones put together — shows my "aha moment" and also gives a view that I think is a lot like the final spot on CBS Sunday Morning.
Rain hit as I finished my walk and about the time the hikers came back. I was recharged and ready to go again. You can see more from my trip to Turkey and the time in Cappadocia by looking at previous posts or by subscribing to the blog to get posts delivered to your email box as they are published.