I got into Istanbul on a Thursday night, spent all day traveling around the city seeing sights like the Hagia Sophia and then we took a break in order to get ready for a late dinner. I'll admit that since I hadn't slept on the flight over and I crashed so hard Thursday night, I was wondering whether I would do well with a late dinner.
But Nilay's husband Korhan had a clear drive to keep me going & enjoying their hometown so we met in the midst of Istanbul's Taksim Square around 9 pm. We met at the Republic Monument and went on a nice walk. With the Friday night timing, there was quite a crowd to watch! We wandered around the neighborhood, pausing to see this and that. Here are a few photos you may enjoy.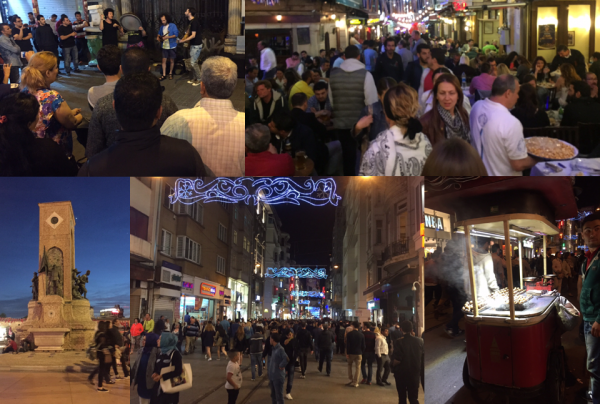 We ended up on a tiny street – more like an alley really – where restaurants put tables out front passageway almost closing the alley! The street – Nevizade – is home to the Krependeki Imroz Restaurant where timing and Korhan's connections resulted in us getting an outdoor table which we later got to share with strangers.
Here's a few short video clips pulled together for your enjoyment. Check out how narrow the street was and how many people are there! And as you'll see the people watching was really something to behold. Don't forget to check out all of the other posts about my 2015 vacation in Turkey.