I have another great blog post…. this one is from my oldest niece Georgia. My friends from college are still stunned to find Georgia has kids of her own but what's stunning is how great a mom she is! She enjoys her kids Nikki & Jake in a way that makes everyone around her smile and join in.  There is a love of life that I couldn't imagine could grow, but she has done it again this year as she embarked on a journey to lose it…. the extra weight that is. And she's found more than she expected. Here is Georgia's look at #FoodThanks.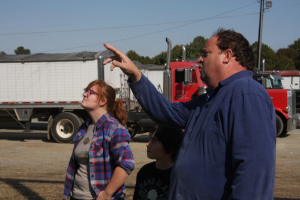 When challenged by Aunt Janice to write about the reasons I am thankful for food it spun up many ideas… That food is a common language amongst all kinds of people and can bring us all together. How thankful I am that many nights of the week when I walk in the door from work my husband (who has also worked all day and finished homework with our son) has dinner ready for me and the kids so we can enjoy the meal and time together. Cooking quesadillas or baking cookies with my son and the joy and feeling of accomplishment it brings the two of us. Making my daughter one of her favorite meals when she is home from school and seeing the smile on her face when we are all sitting around a home cooked meal. The recent trip to a farm with Aunt Janice and my son, Jake, that I know we will remember and hold in our hearts forever.
With all of those wonderful reasons to be thankful for there is still one that I feel most compelled to write about today… My journey this year learning how to enjoy food and all the things mentioned above while finding ways to incorporate healthy food choices.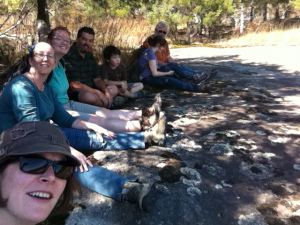 In January my company offered the Weight Watchers (WW) program at our office and at an extreme discount. I was asked if I would be the liaison and help coordinate the weekly meetings. Since my teenage years I have struggled with my weight, a roller coaster of ups and downs. I had never tried any "diets" or even given them any thought. However, I couldn't pass up this opportunity; I at least needed to see what it was about. My mom and sister, Corey, joined with me, thank goodness, I had back up!! Turns out, WW isn't so much a diet as it is a program that teaches you how to make better choices by looking at food differently. Food is here to nourish us so that we can be healthy and have the energy to do all the other things in life that we love and that make us happy. I am most thankful for this new found knowledge. Yes, I know we were all taught about the different food groups in school and we have all heard it from doctors and public service announcements; but it's a lot different when you are out in the world and there are so many tempting choices everywhere you turn. I cherish this knowledge and the new strength and energy it has helped me discover.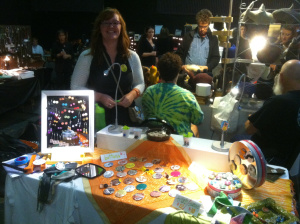 I still love food, but now I also love finding new foods. I am thankful for the energy healthy foods have helped me discover. Proven in the fact that, I can now run with my son for the simple sake of running. The confidence it has helped boost, not only because of the weight loss, but also in knowing that I have accomplished something that was difficult and didn't give up. In October, I had a booth at a local art show selling buttons, earrings, magnets, etc… before then; I had never really shared my artwork with people outside of my family. I certainly wouldn't have had the motivation or confidence to go out on my own and put my work out there before this rejuvenated relationship with food. I am also thankful to have been able to share this journey with my mom and sister, watching them grow (well shrink actually 🙂 ) has been an awesome reward in itself, as they too have a new love for life, the outdoors, and great confidence. It has definitely brought us all closer.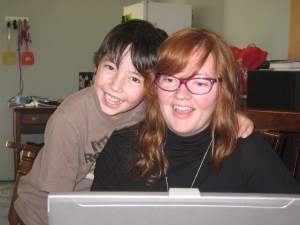 The best part about this new found knowledge of food is that I am still able to enjoy every single food experience in the aforementioned list. I still bake cookies with my son, the cookies are now just smaller and I eat just one. I still make my daughter her favorite meals; I have learned to lighten up many dishes without putting taste on the back burner and for those that I aren't as healthy I either skip and eat more veggies or enjoy them with her but with smaller portions. And, my husband still cooks dinner many nights, but is aware and very supportive of the need for more veggies and fruit included in the meal.
So, in a couple of days, when I am with my many relatives and friends for Thanksgiving at a cherished camp close to Nashville, I will still enjoy the traditional foods (in smaller portions, of course), but I will be most thankful not for the delicious family dressing (although, for that I will always be thankful) but for the health of my family, the time we have together, and the extra energy to take a long hike through the beautiful camp with my kids.
See a lot of related posts on the AgChat Foundation's linkup for #FoodThanks or browse some of the recent posts others have contributed to here on my blog:
And if you want to give #foodthanks, join in! You can post it on your blog, send me an email and I will post it here or simply leave it in the comments. I'd especially appreciate your thinking of some of the many people not at your table who participate in your Thanksgiving meal by doing their daily jobs!