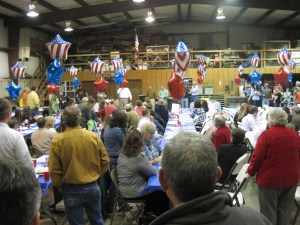 Two Saturdays in a row I've made the drive out to a town some of us affectionately known as Hooterville to see my farming friends Marjory & Bob. It wasn't to see where the crop was — we're so early in the early that most of the work is field prep and fertility. But it's always the season to help different community organizations! And Walker Farms certainly does step up in that category.
Auction to Support the Boy Scouts
Last week the farm held an auction that the brothers behind Walker Farms has done annually for several years. Most of the Walker boys were in the Boy Scouts. And several went on to be Eagle Scouts. With the Boy Scouts West Tennessee Council serving a lot of smaller towns in the area, good fund raisers can help several communities. Besides, the party can be a lot of fun too!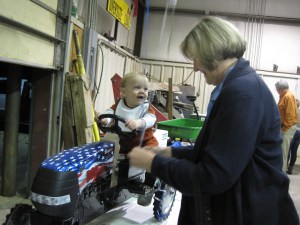 This auction included a variety of things — one of the most popular items was a pedal tractor from Willie German Equipment Company donated. I bid on a pewter platter a few times and thought I may have gotten it. I really loved the idea of bidding on the basketball that was signed by University of Memphis coach Josh Pastner BUT competition for it was serious! By the time I put the pen down, the previous bidder was back and raising me! She was TOTALLY serious about getting that ball so while I did help make sure the Boy Scouts got a good donation, I knew I was outmatched!
There were also a lot of things that farm suppliers donated — including bags of seed and cases of crop protection products, truck loads of chirt rock and marketing contracts. With so many donations from so many people and the community coming out in such great numbers, the auction raised more than $20,000 for the local Boy Scouts Council last weekend!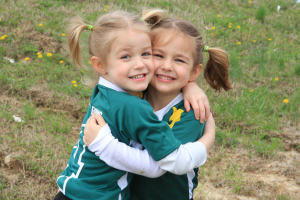 Sponsoring a Youth Soccer Team
Then this weekend I got to see the Walker Farms kids soccer team take the field! On my drive out I made sure I knew where the field was etc and when I found out what to look for in the team jerseys, I have to admit to laughing! Although tractors & pickers on Walker Farmers run red, the league decided this team would be green & yellow. But how great that these kids get to the support of local farmers when they take the field to run and play soccer!
What do farms in your community do above & beyond providing our food, feed & fiber?