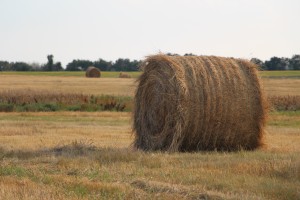 A few people suggested I write about hay today, including my dear friend Mona who left the most encouraging comment on the post for G is for GMO. The reason it means so much is for Mona and I, it took a little time for us to find common ground. We could have easily decided the differences in some of our ideas were more important, but we continued talking through Twitter and blogs and found we have a lot of common ground. I LOVE how social media can do that! So if Mona wants me to write about hay, well, buckle your seat belts cause we're headed to the hay field! (I just hope it isn't a really bumpy ride!)
Types of Hay
I have to say that I always thought hay was just tall grass. Not sure when I realized that there were different types of hay but I do remember I was a bit surprised to find out how much I had oversimplified things. Oh, and by types of hay, I don't just mean it comes in both round and square bales! And then as I started to learn about what cows eat, I found our the nutritional differences can be significant and that nutritionists and/or vets are a critical component as farmers look at livestock feed.
There is a great post on TheEquinest that speaks to the various types of hay and they include detailed photos! I'm going to use their list of types to make sure I have a relatively thorough list but check out their post if you want to see what they say about hay and horses.
Cutting Hay
Love that Ryan Goodman of Agriculture Proud put up several posts during hay season. This short video during a mechanical breakdown gives you a feel for some of the things farmers have to consider in harvesting hay.
And I couldn't POSSIBLY post about hay without including one of my all-time favorite MooTube videos from Will Gilmer of Gilmer Dairy Farm as he sings "The Baler Rolls" in a way that has to make Garth Brooks proud! Love that it teaches me about hay while I get to smile at his wit!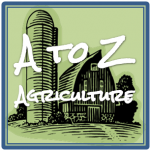 Wednesday is I Day! I is for….
Wednesday will be brought to you by the letter "I" so what do you think the word of the day should be?
See the other posts in this series by clicking on the logo at left and reviewing the letters, or by browsing the A to Z ag tag archives. You should also feel free to add ideas for upcoming letters!
Related articles