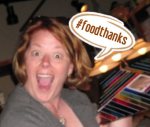 This weekend, I asked some of my friends to join me in #FoodThanks. It seemed like a no brainer since so many of my peeps like food and they are a thankful lot. , so putting the two together should be easy enough. It seems to be different for everyone so I would like a number of personal perspectives on the food things you have to be thankful for. 🙂  Then I decided to add a few tips of my own. 🙂
My cousin Lisa is one that routinely entertains me, but she went straight to the point with her food thanks:  "I am thankful for Milk…Lee and I go through a gallon every two days!" That makes me think that she ought to meet Tennessee dairyman Ryan Bright (@farmerbright on Twitter) he tells his story at Silo Skies and secret agent cows on his farm expose the truth about dairy farms on The Udder Side.
My friend Keith made me hungry with his excited comment:  "I'm thankful for the times I get to do some of the cook offs around here. Wish I had more!!!!!!" Knowing how barbecue is done in middle & west Tennessee, I'm willing to bet a pig farmer is usually involved in some of the barbecuing Keith does! Wish I'd thought of that when Sam Wildman (@farmboy09 on Twitter) came down to Nashville in August… could have check to see if he'd some pork from his family farm! He writes about that and college life at reflections from a country boy.
My girl Marjory is busy working & raising two of the most beautiful girls ever, while her husband's harvesting so her timely reply strike me:  "I am thankful for almost instant access to just about any kind of fresh food/cuisine that you can think of!" Since Marjory's family helps produce some of the food we eat, I'm guessing I don't need to give pointers on that BUT she' has a lot in common with Kelly Whatley who posts photos of her busy life on her Farm Fresh blog.
A high school friend – Randy – is a professor of civil & environmental engineering has done some awesome traveling, most recently South Africa and he shows that world view in his reply:  "Janice I am glad too give some comments. I have found food to be the media by which people come together in many cultures. I have spent a great deal of time enjoying many different kinds of foods with good friends. It builds memories for a lifetime…..I also believe that food security, and localized water scarcity, are going to be huge issues in the near future. I hope this helps." One of these days during travels, maybe Randy could get a vegemite sandwich with Jonathan Dyer (@dyerjonathan on Twitter) and blogging as The Nerd Farmer.
 Another high school friend, Neisan Rouhani, photographed with his beautiful twin girls got straight to the point making me want a healthy snack! "green apples. perfect in taste and texture." My friend Jeff Vanderwerff (@agsalesman on Twitter) does a great job of showing how they planted new apple trees and how his family farm moves apples to storage after picking. I know he's got red delicious apples, but they are way closer than anything I grow! LOL!
What do you give food thanks for? If you have a blog, I encourage you to write up your thoughts and post it in the AgChat Foundation's #FoodThanks linkup. If not, send them to me and I'll post them for you! My blog's email is what would read aloud as jplovescotton at janiceperson dot com.
Related articles