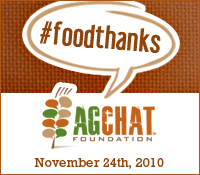 Having lived in New York metro, this video rings so true for me. Since I'm on vacation today, seems a great way to start my morning by taking a minute to quietly thank a farmer (actually several helped produce my breakfast of a chicken biscuit — chicken, wheat, eggs, milk, tea, potatoes) and offering #foodthanks by telling my niece thank you as she brings me breakfast (love that).
After you watch the video, be sure you join others in offering their thanks to farmers. There are several options:
If you have friends who farm, tell them thanks!
Write a short note on this website people at my office did. You should also browse a bit as there are several neat components including a profile of a friend (Ray Sneed shown here on my blog last spring) who's family farms in the Memphis area.
Including a prayerful word of thanks to the farmers who produced the food as you sit down for a meal
Updating your status line on Facebook to include the people who grew your recent meal or snacks
Tweeting (if you do that sort of thing 🙂 ) using the #thankafarmer and/or #foodthanks hashtags
Writing a blog
I hope you have an incredible holiday whether you produce the food on the table, cook it, serve it or simply enjoy it!
[youtube=http://www.youtube.com/watch?v=v4vvPPNyQ5g]