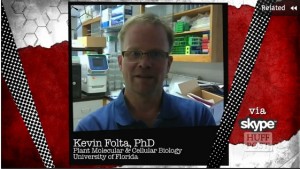 For the past week, I've gotten daily emails about a single post on the web — Huffington Post has a
"Talk Nerdy to Me"
series of videos that cover all sorts of science topics. The most recent one is
talking nerdy about GMOs
(genetically modified organisms or biotech if you prefer). And since I work with a lot of agricultural technologies, including GMOs/biotechnology, lots of people have sent me the link.
The reason? It expresses the viewpoint of so many of us who work with GMOs — we care deeply about the environment, want to leave the world in a better place than we found it; we care about food — the nutrition we put on our tables, the farmers producing it or gardening for ourselves and the folks who don't have enough of it too and other things that can
Last time I tweeted it, it seemed like several of my peeps hadn't gotten inundated with the email so I decided I better put it out here just in case anyone has missed it.  The video starts:
KEVIN FOLTA: I look at the scientists around me and the scientists I know, and you look at the anti-GMO activists, and we agree with them on just about every issue. We care about the environment, we're into worker safety, we want to feed more people better nutritious food, we want to have sustainable ways to grow food, but we differ on this one area. And it's really disappointing because we know a lot about it, we understand it, we understand it inside and out, so to us it doesn't scare us.
Who I Turn To When I Need Someone to "Talk Nerdy to Me"
If you'd like to hear from more scientists about the information they have on GMO crops and foods, here are some of the third party blogs I read or who I follow on Twitter and Google Plus:
I am sure I missed a lot of really great folks who when I have questions online are willing to "talk nerdy to me" but this gives you some of the folks to start with at least.
What scientists do you talk nerdy to?