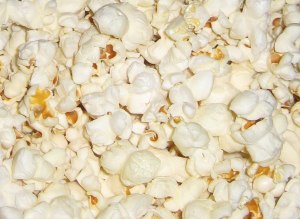 In my current state of heightened popcorn awareness thanks to Ryan Weeks, when I stumbled on this video, I was amazed. So amazed that I felt I absolutely HAD TO share it! It's a great look at how the kernels heat up in oil and explode. It's one of the many YouTube videos from The Brainiac Store.
It is interesting to hear the popcorn play-by-play "at 4000 frames per second, the individual kernels can be seen turning inside out. As the heated moisture within breaks the hard shell and the starchy endosperm unfurls in an edible spongy foam. The violent unwrapping launches the newborn popcorn in apparent celebration as hot oil transforms hearty grain into a tasty snack. All of this in a 50th of a second…"
[youtube=http://www.youtube.com/watch?v=YFh6RAwELi0]
Now… I wonder if you are thinking what I'm thinking. What I want to know is does anyone have a video editing program that allows you to slow motion footage? I looked at a few but the ones I found are fairly expensive.
And I really need a good, inexpensive video editing program whether it does slow motion or not. I need a PC-based version too since that's what our office generally uses and its just easier to stay on the same platform in general.
What video editing software do you use?