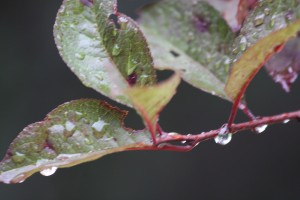 I woke up in the middle of the night to the bright lights of lightning and the crashes of thunder. It was so exciting, I had trouble getting back to sleep! Seriously! Not from fear, mind you but like so many of you, I was thrilled that rain could be coming! As rain hit the windows though, eventually I was reminded how well it can encourage good sleep. And when I woke again this morning and STILL HEARD THE RAIN, I knew I had to grab my camera and get photos. The rain was fairly hard though so I waited a little while (though with the drought I was really tempted!) The photos I took, to me, are images that I have been dreaming of.
After several hours of great rain, I finally went outside to capture some of the images I had been dreaming of this summer. There were leaves on my dogwood, dripping with rain! Water pooled on the "mystery" pumpkin bloms and young pumpkins that have decided to take up residence in my yard! Droplets a plenty on some spiderwebs that I should have knocked down but the intense heat has kept me inside too much.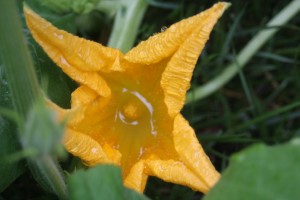 There are plenty of reminders of how hard the summer has been….. branches with dying leaves or some branches that shed leaves already. I know I could have watered the yard more. I can afford the water bill from a financial standpoint, but the reality that we all need to be conserving water has been driven home routinely. There was a drought here last year that took its toll on some of the plants in the yard, my Twitter feed is always a buzz on #drought12 and a local township even sent a letter asking residents to limit their water use. I have tried to water the trees, flower beds & my raised bed enough to keep them from real harm but the temps have been so high and the ground so dry, that's been tough with travel.
Snapping Photos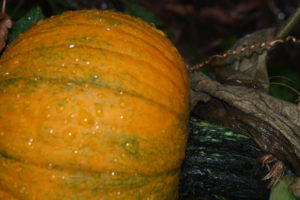 I wandered about the front and back yards, snapping photos and soaking it all up, much like the plants are doing.
There were a few man-made things that caught my eye. The fact my car was finally not dusty from the work being done on the parking lot at the office (washed it a couple of days ago but dust returned within hours). The fence that is getting weathered. The lion that held spiderwebs on its toes. And of course, there was my deck rooster JZ enjoying the break!
But nature really shines in rain. There are the slick surfaces of a pumpkin or tomato or lots of leaves. The colors seem much stronger and yet, also more relaxed in places. The fat that water beads in different shapes and sizes amazes me. You could almost hear a collective sigh as plants breathed a bit easier. I took time to notice how the wood grain handle was dark in comparison to the flowers on mint next to it. Rain has definitely been on my mind a lot and it was nice to have it on my toes as I walked through grass that no longer is crunching!
Video of Rain Covered Plants
I took so many photos that popping them up here was a challenge. Instead, I decided to take the take indoors too to show my appreciation. Yes, I turned a bunch into a video. I downloaded the music to my video through the Free Music Archive. The song I picked seemed a good fit as it is called Shangri-La! The popish instrumental is by Portland-based YACHT.
Drought 2012
This year has been a hard one. One that has certainly reminded a lot of people how much we need rain! Have you caught raindrops recently? If so, I'd love to know what captured you mind. If not, what do your raindreams hold?
Related articles