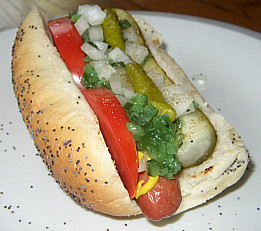 This week's food poll may be the last as we are bringing the summer to an end. I'm still thinking through my next steps and thought maybe this should go the route of the way I'm ending summer — with a trip to Chicago, a city well known for food and eating!
I had a few thoughts (mostly from memories of eating my way through Chicago in May or previously!) but I decided to consult a couple of experts:
Nate Taylor who works in precision technology and has the social media presence to go with that! He's also promised me a really good steak on the grill at his house some time (and I will collect). And I'm expecting some really good glasses of red wine! You can find him on Twitter * Blog * YouTube.
Kelly Rivard is a college student in the metro Chicago area who has interned in food & agriculture. She and Nate both said Italian beef HAD TO BE on the poll. And she also added pierogis! You can find her on Twitter * Blog.
Since we have a crowd headed to Chicago for the AgChat Foundation's first training conference,I'd love to hear suggestions on what you think we shouldn't miss!
[polldaddy poll=3674500]
[slideshow]