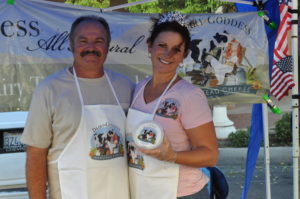 Buying products that clearly show which farm they originated on or even straight from the farm has become a driver for many Americans. To do that, many farms have been doing some creative things to help make those connections more common.
DairyGoddess Cheese
My friend Barbara Borges-Martin aka the DairyGoddess is one of the many farmers I've met through social media and over the years I've known her, I've come to count on her for some creativity! I remember her telling the story two years ago about how much she wanted to fulfill a dream of making cheese. Barbara wrote on her blog:
My very first memories are of being around cows. They make milk and that milk was transported off to some other facility where they processed it.

That was all I knew and grew up with. I always though, had in the back of my mind that I could make something with my milk!

Life moves forward and time goes so quickly.

As my kids grew and became independent, I started to really think again about making something, making a bit of a "mark" so to speak. Reinventing my creative side was really where I wanted to head.
If you want to see how incredible creative she is, you will have to go to that post and check out the slide show she has there. It is SO BARBARA!
It didn't take long and she had made investments and had a cheese business up & running. The local TV station KSEE did a spot on the accomplishment and Barbara's use of social media.

Over the almost two years Barbara has been making her now famous Dairy Goddess spreadable cheese, I have kept track of her progress and wondered when I'd get to taste it myself. I'm still not there yet. Need to get to the Central Valley or nearby — Hanford Farmers Market is one of the more than a dozen farmers markets carrying the Dairy Goddess' products! She's also in three specialty stores and Whole Foods Fresno.
Expanding a Farmstead Cheese Operation
Last week, I saw this Facebook post by friend & neighboring dairy farmer Dino Giacommazzi.
Hey Facebook friends, if you are willing to skip a couple of Starbucks this week and send a few dollars to the Dairy Goddess, she might be able to get some of the world's best spreadable cheese to a store near you. I have to be honest, I sometimes eat this cheese straight from the tub while watching TV. Every time, I have eaten the entire tub in one sitting. Sometimes I skip the crackers because it takes too long….I eat it with a spoon. It's good stuff.. Now go donate some $$.
Yes, he made me REALLY want some of the cheese. And he made me wonder what the link went to.   The link is to a gofundme page about how you can help a dairy goddess soar. The big picture is her product is getting a lot of positive attention, the reality is dairy farms have been pushed economically so the investment is too big to be taken on so she's asking people to help move the business forward:
It has nearly been two years since Dairy Goddess Farmstead Cheese/Milk started making and selling cheese. Most recently I have started selling a Non-homogenized / Lightly Pasteurized Whole Milk and Whole Chocolate Milk. Happily, it has been a huge hit.

I received a call from a large distributor. They want Dairy Goddess Cream Top Milk / Cream Top Chocolate Milk and Cheese.

As many of you know, we are 3rd generation dairy farmers. Dairy Goddess was built to help our farm. These past few years for the dairy industry has been brutal. Hundreds of California dairies have closed the doors since our 

Real California Dairy Ad campaign

.

 

With that being said, capital is nearly impossible.

 

So, I am reaching out, asking humbly for your help.

 

To grow further and fulfill large orders I need refrigeration for my plant as well as a refrigeration van. I know I am asking a lot. I know many, many people are struggling. I ask you to spread this to your business contacts or someone who might have an entrepreneurial spirit.

 

If my goal is not reached. It's OK. I need milk crates and more ice chests and regular storage, labels, bottles etc etc etc.

 

Most of all I ask for your prayers. St. Pio Of Pietrelcina said "Pray, hope, and don't worry. Worry is useless. God is merciful and will hear your prayer…"
Dino is right. A small contribution from me and others can mount up to the big difference for the expansion.
For kicks & giggles, I think maybe I should add her fun slideshow about her dream here…. It just makes me smile! 🙂  And I love knowing that she has realized part of her dream and continues to dream bigger! Sing along if you like!