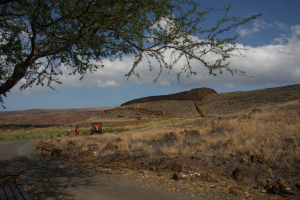 Recently, I wrote a blog post about meeting a farmer in Hawaii and getting a chance to eat a salad made with his greens. That's definitely an incredible dining experience. But I have to admit, that's not me all the time. In fact, that's more the exception than the rule. And while I was able to have some incredible meals both on the Big Island and Oahu, they don't all look the same. I have to say one of the greatest lunches I had while there was pretty luck of the draw. That's what Marsha and I found our first full day in Hawaii. We were wandering around the Big Island and stopped at a historical park for a walkabout before lunch.
The park we stopped at — Pu'ukohola Heiau— is a National Historic Site and is part of the National Park Service. The park marks the site where King Kamehameha had a temple placed to overlook a gorgeous part of the Big Island's coast. In fact, we were able to see whales just off the coast and sharks in a cove. It was beautifully serene as the photos show.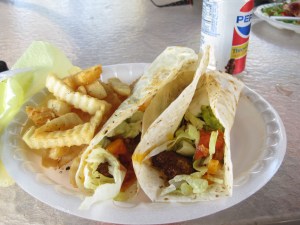 After a walk and a wealth of photos, our stomachs were growling and we realized it was well after lunch time in St. Louis. So we did what comes naturally, and asked at the visitors center where we could get a good bite to eat nearby. The first answer was probably the broadest menu or something, but we asked whether that place had fresh seafood. Next thing we knew we were headed toward a lunch wagon near the gas station…. and my mind was dead set on the fish tacos one of the rangers said was so great.
There we had several locals talk through the rest of the menu, look at our maps and give us tips on what else to see. AND we really enjoyed lunch! Although, if you were there later you would have missed out on some of the options because the cook said the fish weren't really biting today. So if you are ever in Kawaihae, you should check out Da Fish Lunch Wagon — that link will give you the scoop for it on Yelp! And believe me, you won't be sorry!