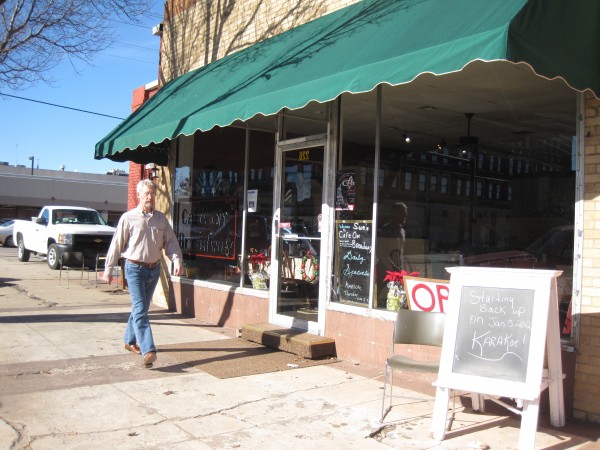 Recently I had a chance to go back to Oklahoma and visit some college friends. We were just wanting to hang out, catch up on what's been happening and, I must confess, eat well. We certainly did that! Visiting with my girlfriend Shawna, it seems that you can go far and wide to get really good food — or you can get it in her kitchen!
We had a bit of a combination one day for lunch. We drove a couple of hours to have her mom's home cooking in the restaurant she now owns! Sue's Cafe on Broadway is in Enid, Oklahoma is just west of the downtown square on Broadway Ave. Its a place to go if you like homecookin' and friendly people.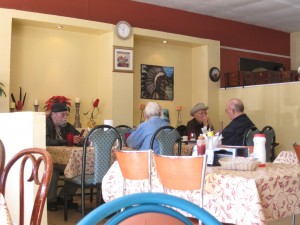 In fact, Sue has had a couple of other restaurants in town — Sue's Place was on Willow had a lot of regulars — so she had regular patrons the minute she opened for business! And they even have their own area of the cafe to sit and visit with each other as they come and go. The regulars are friendly with a smile and are willing to let you just do your own thing.
In a crazy mixup, I ended up getting lunch before Shawna got there. I was REALLY late and thought she had eaten and when Sue mentioned the special was beef tips, I was ready to go! I'm kind of glad there was a mixup though cause I couldn't have possibly eaten dessert with all that lunch, but 45 minutes later I was able to eat some fantastic banana pudding. And now I hear there is now music some nights too with local garage bands plugging in to play! If you're in Oklahoma and think you can make it to Enid, you really should check it out. And if you see Sue, tell her Janice sent ya! 😉
As you leave town, look at the Enid city limits sign in the rear view. You'll see in says dine spelled backwards and you'll want to come back!