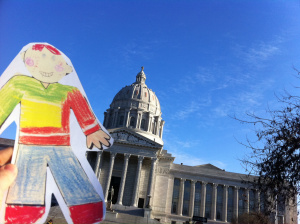 Jefferson City, Missouri (848 miles from home)
Hey Jake and Ms. Rorie's Class!
Thought you would like to see Flat Stanley having fun in the snow here in Missouri this week. He really enjoyed the white, fluffy stuff but he was ready to go back inside, because it sure was cold, and he forgot his jacket!
The weather in Missouri is typically very cold in the winter with lots of snow and usually in the mid 70's during the summer.
After playing in the snow, Flat Stanley's next stop in Missouri was to the state's Capitol building in Jefferson City. On the other side of the Capitol is the Missouri river, which runs through the state and connects with the Mississippi.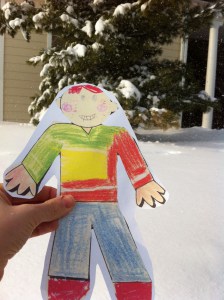 If you look at the very top of the dome, you'll see a statue of Ceres, the Roman goddess of agriculture. Like all the other states in our country, agriculture is a very important part of our history.  Many crops are grown in Missouri to help feed and provide for families just like yours.
Did you know Missouri is the Show-Me State? The meaning behind this phrase is that Missourians are typically not
convinced of something just by hearing about it. Instead, we want someone to "show us." Flat Stanley enjoyed his stay in the Show-Me State and hopes you have fun learning about his travels and that he can come back again!
Whitney (@WhitWallace)