Thanksgiving Day. This year's Thanksgiving was spent doing something I hadn't done before and yet. I had the chance to understand how one of the foods that I love goes from farm to my table thanks to Irv, Louis and Jamie showing me through olive production. I will be posting about all of that later, but it was a uniquely American and uniquely gratifying way to spend a slice of time. And in case that wasn't quite enough, I got to visit Meg's ranch and meet her pigs!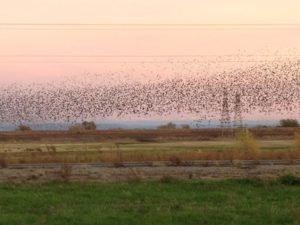 With all of that in the books, I headed down the road to take photos and soak up some of the great views. As I drove though, I had to pull over. There was a massive flock of birds dancing across the sky back and forth. I watched for quite a while and then realized I should share so I pulled out my phone and recorded a few minutes of it. I hope you enjoy it as much as I did! It was funny to watch how many others chose to do the same thing. The timing with sunset made it compelling in a way that the close of CBS Sunday Morning is. 🙂
In the event you want to know where it was, it was just south of Olivehurst, California which isn't far from Sacramento. There are a lot of rice fields in that area and I have to say, this reminded me of my days in the Delta.
If you didn't take time to give thanks for the wonders of nature and how we can work with it to produce food for ourselves and others, you can do that instead of going to some Black Friday sale and buying something you probably don't need anyway.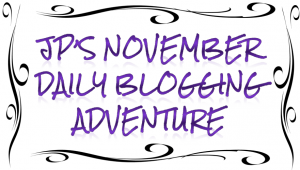 To see other posts in the series of 30 days of daily blogging, just click on this image wherever you happen to come across it. There will be a little of this and a little of that in the series, just like there is in my blog at any time! You can also see a list of several other bloggers doing the 30 day challenge on this post by Holly Spangler.