The discussion about gay marriage has been a long time coming. This summer has raised it to new levels and the Supreme Court decision in Obergfell v. Hodges was a shifting point for so many. Since then we have seen increased polarization of the discussion of the topic in several circles. I've seen people I love and respect hold their heads high despite incredibly horrible things being said to and about them — sometimes very personally on their Facebook pages, etc.
I've tried to always be sure my family and friends know where I stand but sometimes you have to wonder if that perspective needs to be more public. Recently, I realized I hadn't put it out here publicly. While I wonder why, I also wonder why I may need to s o I'm thinking it through as I write.
In the last couple of years, I have had the opportunity to celebrate the marriages of several friends and family members who never thought these days would come. These celebrations have been incredibly joyful, all about love and yet, many were unable to celebrate marriage in their hometowns.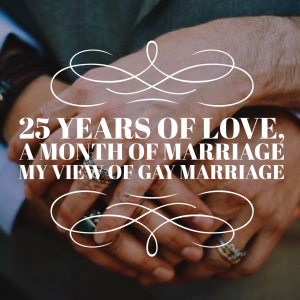 I can't help but think the fervor over what one court clerk is or is not doing, what she is saying and has overshadowed the truth that so many of my friends and family see. The memes created by that sort of vitriol… that's not what I think should be the lasting images associated with gay marriage.
Our family and my network of friends have included gay spouses for years. As we plan family reunions, holidays or anniversary parties, we touch base with those we love about their plans too and whether we will see each other. When we have a birth or graduation, we all celebrate together and when we mourn the passing of a dear soul, we cry together.
We spend long weekends together working in nature, bringing a way to honor friends who left us too young. We laugh and sing together and we make long road trips and take flights to find our ways to each other for visits.
There are long conversations about concerts to see, must see places in the world. We talk about things that are critical to our very beings and we share silly moments.
We didn't need a seal on a piece of paper and yet, the fight for that right has been critical and something I in no way want to make light of because legality of the partnerships and commitments is different and that legality is a critical piece of equity. Someday my nieces & nephews will look at us like we are crazy when they hear gay couples haven't always been considered equal under the law.
My cousin and the man he has loved for 25 years have finally been able to have that relationship recognized by law. I understand that some people have religious beliefs that make them unable to recognize the love these folks have, but he's been family just like the spouses of some of my friends.
While lots of us didn't need the law to make their marriage real for decades, I couldn't help but feel like it somehow made a difference once they were able to get married as they wanted. They had a chance to have family and friends celebrate their love, they had a chance to make a commitment to each other that fits the standard in our culture.
I think their hands folded, one over the other, at that celebration…. that is a meme that should spread. That sort of love that lasts 25 years despite all the pontificating from others…. that love that has already survived sickness and health for so long…. that has seen such incredible reason to celebrate for family and mourned incredible loss… that needs to be celebrated. And for that reason, I guess maybe that's why I wrote this post.