The last couple of years, I have had it in my head that I need a Spirograph. You may remember this simple art gift that included various shapes and rings with holes in them for you to use in making fun designs.
I blame it all on a conference that I've been speaking at called AgCatalyst. And I swear the logo looks like it was drawn with a Spirograph. And the fact they use that as stage art? Totally a winning move. Feel free to watch the video highlights and you will see what I mean!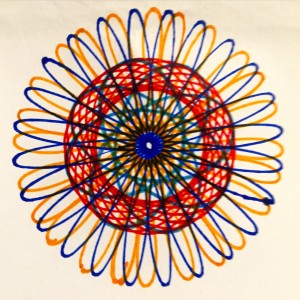 So when my cousin Lisa got a Spirograph for her birthday in early December…. I did what anyone else in my place would do…. I contemplated buying one! However, it seemed like Black Friday had wiped them out so I filed it away for later.
As I opened Christmas gifts, I may have squealed with delight over the fact my sister found a travel set! AND she gave me an awesome set of pens to use with it!
Flying home from her house, I pulled out the set while sitting in First Class (thank the powers that be for free upgrades to loyal customers).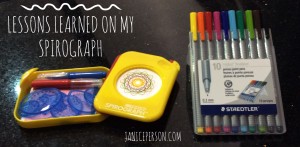 So what are some of the lessons that I am remembering thanks to a renaissance of a once favorite toy?
It is fun to "do art" or "be creative." I know, using a Spirograph is really more like drafting than a fine art, but the reality is you have to make choices of what you want to do next. Different drawing tools, pens, etc and let you put yourself into it as a means of expression. That meets my definition of the arts!
Simplicity is great but sometimes you just have to keep going to see what can become of going all in! I love the first wheel turning around the page, pen creating arcs and lines. There is always a minute where I just have to look at it and think that's cool. But I really love adding additional colors, trying to decide how other pieces will add to the drawing. Multiple colors really is where it is at for me!
Mistakes will be made, accept it and move on. I can clearly remember my sister and I playing with the Spirograph for seemingly hours on end! We would pull out all the different pieces, carefully place the tiny stick pins through the rings into the cardboard. Eventually, something moves in a way you didn't want it to. Relax. Look at what you need to do to match up a bit and move on. (Spirographer's note: taxi, takeoff & landing are not prime times for perfection in drawing even with the assistance of a spirograph!)
Doing something you enjoy frequently brings smiles to others. I have to say, I have been blown away by the number of people who liked and/or commented on the first of the creations on my new toy. Several shared a passion for Spirographing as kids and had forgotten about it. Yes, I think I have enhanced Spirograph demand! 🙂
There is something very different about putting pen to paper…. I enjoy it in different ways. I remember this when I'm doing other things too but the creative process is just different for me if I have a pen in hand (yes, I realize this could make me sound old school and I am fine with that!)
I have always loved good pens! I think it could be considered an obsession though I don't expect I will seek counseling for it! But the way a good pen glides across the page can't be matched. It is something my family knows about me and they have given me various pens as gifts (last year it was calligraphy markers!)
You can go home again. It is amazing how quickly I started considering various color combinations, how I wanted to remember what designs the football and plus sign made, etc. My mind shifted quickly right back to laying on the floor with my sister, discussing big ideas and considering so carefully where to start the next round and which color I should use. Good times.
Did you ever have a Spirograph? Or other art toys? I had lots! Loved so many of them too! Still enjoy tapping into my creative side. 🙂