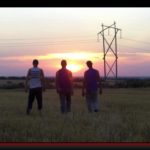 This video is pure awesomeness from the Peterson Farm Boys in central Kansas. It is an agricultural version of one of today's most popular songs — "I'm sexy and I know it" becomes "I'm farming and I grow it." Love knowing that the kids who will run tomorrow's farms are committed to the land and love what they do! The Peterson Farm in Kansas is now on my bucket list! I cannot shake the tune out of my head and the words have really stuck too!
When I first saw the video it had about two thousand views… it has gone over one million in just a few days! HOW COOL IS THAT?
———————–
Since I posted this, the guys in the "I'm farming and I grow it" video have done quite a few interviews! I love their spot on Fox News Friday, June 29!
 an interview with their local paper that gives a little glimpse into what they had in mind. The oldest brother, Greg is majoring in both ag communications and music so it seems he found a great way to bring the two together. The article on the Salina (KS) Journal's website says:
"We weren't really thinking about doing a video at first, and then decided we ought to," Greg said.

The brothers have posted several other videos depicting various aspects of farm life on "ThePetersonFarmBros" YouTube channel and lots of videos of Greg's music-making on the "gregpetersonmusic" YouTube channel.

"We started filming the opening scene during wheat harvest, then couldn't do much on it because we were super busy," Greg said. "We did some in the evenings and on Sundays because we don't work on Sunday."

In all, he said, more than two hours of action was shot for what ended up as a 3-minute, 31-second video.

Scenes take place mostly around the family farm just east of Bridgeport, using fields, cattle, hay bales and combines as background and props. Other scenes were shot in a grocery store and in front of a billboard reminding people how many mouths an American farmer feeds.

"We were thinking of all the things we do around here and wanted to show that," Nathan said.

via salina.com "Farming video creates a spin on YouTube"
Others weighing in with stories about the Peterson Farm brothers include: