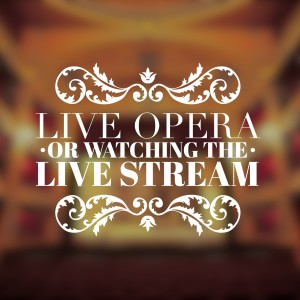 This afternoon, I was able to enjoy the Metropolitan Opera's new production of Bizet's opera Les Pêcheurs de Perles (The Pearl Fishers). What is amazing about it is the incredible cultural experience happened while I was at home in St. Louis! I watched the Metropolitan Opera live stream!
It was a unique experience that I hadn't heard about until recently and now I am looking forward to doing it again. Let me explain.
Finding Opera
Over the New Year's weekend, a friend and I went to a movie and while there, I noticed a flyer about the live streaming of several productions in the Metropolitan Opera's season. Somehow I had missed the fact that the Met season is live streamed to a bunch of movie theaters. And this is the tenth year!
I'm not exactly sure when I saw my first opera, but I was lucky to get exposed to a variety of styles of music very early. I can remember school programs getting us to the ballet and all.
But somewhere along the way, I found a love of opera. I remember going to Lincoln Center and being in awe of the place. And yes, I envisioned Cher & Nicholas Cage ala Moonstruck when I walked toward the fountain.

I have a variety of operas on my iPod. I remember driving around Italy listening to Andrea Bocelli's music. When I was living in the Delta, I had several chances to see opera at the Bologna Performing Arts Center. I remember seeing Turandot, La Boheme, Madame Butterfly and more.
And although I wasn't sure how a live stream of opera would work, I have to tell you…. this was a pretty fantastic way to see opera!
Live Opera vs Live Stream
Sitting down, K.J. and I were chatting about how we weren't sure how the camera work would be done, how supertitles/subtitles would be done etc. Having seen several live operas, we started comparing some of the factors.
Dress Code — Going to the movie theater is all casual…. No high heels needed!
Great Camera Angles — We weren't sure whether it would be a single camera shot or what but the camera work was incredible! We could see facial expressions, action, etc…. In fact, the camera work was so good it could have been a movie.
Behind the Scenes — Something I hadn't really anticipated was the fact that there was a host for the opera. Someone who told us it was the first season in 100 years since the Met did Bizet's "The Pearl Fishers." During intermission she spoke to the stars about their performances, careers, etc and we had a chance to see how the staging was being done.
Comfy Chairs — Performing arts centers are not known for spacious accommodations. But the movie theater we were in had recliners with lots of legroom… And these even had seat warmers!
Waiters Deliver to Your Chair — Thirsty? Push a button and order. Hungry? Push a button and order.
Tickets — Gotta tell you the tickets were easier to get and at $24 bucks, it was A LOT cheaper! This definitely makes it easier to just check out the opera and more accessible for those of us who don't live in New York.
All that said, you'd think the answer was clearly in the …. but in reality I love it live too. And the added costs are worth it to be in the theater with that level of talent!