I read this piece by the Atlantic "The Business Card Is Dying, Part 3,658" after having some conversations with people about business cards. Business cards took hold of me early in life. In fact, while I was in graduate school, I decided to study the then Soviet press. I spent some time in Volgograd, Russia visiting with editors of newspapers. Although I was just a graduate student, I had a clear sense that business cards were needed to help me establish my expertise and keep some connectivity with people I met.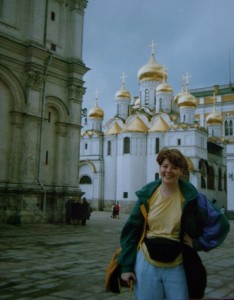 I'll regress for a minute of background:  Now as you may have guessed, I said Soviet press, so this is a clear sign my master's work was being done before the demise of the Soviet Union and rise of multiple countries from its ashes. Yep. I'm admitting my age. I spent part of the summer of 1991 in Russia and I have lots of friends who weren't born yet at the time. It was my first trip out of the U.S. and I went solo into the U.S.S.R. Some people thought my parents should slap me out of the blur but my mom embraced my sense of adventure. As I wrote my results from the interviews and surveys, I watched CNN non-stop as Boris Yeltsin rose to power.
Regressing is part of building in the idea that business cards served an important part of travel for me decades ago, but I must admit, that when I'd return to my office, I'd frequently staple them to a big old Rolodex that Rolodex gave way to a planner, which gave way to a Pocket PC. And digital slowly killed the business card for me. Even if I'd pick up a business card, it would usually be relegated to the trash can soon or maybe just pushed to the back of a drawer in the desk, bound by a rubber band.
Sure, business cards have remained somewhat of a necessity, especially for business meetings with international guests. But the glory of business cards seemed to disappear. They were a corporate necessity rather than something to be embraced. They had a logo, name, title, mailing address, phone & fax numbers and email. It was all so ho-hum.
Social Media Drives Change in Business Cards
That is, until printing techniques that do unique, high quality small runs quickly become more common AND people kept adding ways to get in touch. At least this is what it seems like to me. And when I meet up with a bunch of other social media folks, it seems the trend on business cards may have truly shifted.
A couple of years ago, I had the fax number taken off and my Twitter handle added in its place.  Now…. from a personal perspective, I'm connecting to new people and new ideas frequently. And while I may not want them to fill my mail box with paper (I have a running grudge against the crap that the post office delivers filling my mailbox despite repeated pleas my various addresses be removed from the direct mail lists). But I do enjoy connecting on Twitter, Facebook and the blog here. And that means lots of  lots of contact information, more than ever before.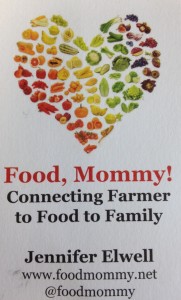 But the types of networking we do is not data only. It is personal. It is social. And for many of us, those connections should be reflected in the tools we use. That's why business cards are fun now! At Commodity Classic, I got cards from people that included a heart made out of various fruits and vegetables on one side a photo of the family on the other…. yep, the food mommy loves food! And Liz, one of the Two Maids a Milking, had a great card with her contact info & photo on one-side and one of her & her husband walking through the family dairy on the other side.
I recently got personal cards made (not business cards, but personal cards for personal connections). 🙂 And deciding what to put on them…. well, it seems to mean deciding what you want to say about yourself. Well, I'm saying I've got a lot of stories and I'm highly visual. And people frequently pick a photo they like best. I bought my cards from moo.com (come on…. you know the dairy folks love it! and my cards are moovelous 🙂 ).
Moo is one of many services that lets you design cards online. I decided to put my contact info and a photo of me (I'm such a visual learner that having a photo of people on cards is totally better than trying to write notes to remind me who they are, what we discussed, etc.) and on the flipside of that I wanted to showcase photos. And moo lets you pick up to 50 designs, so of course that's how many I got!  Here's a photo that shows several of the photos I selected: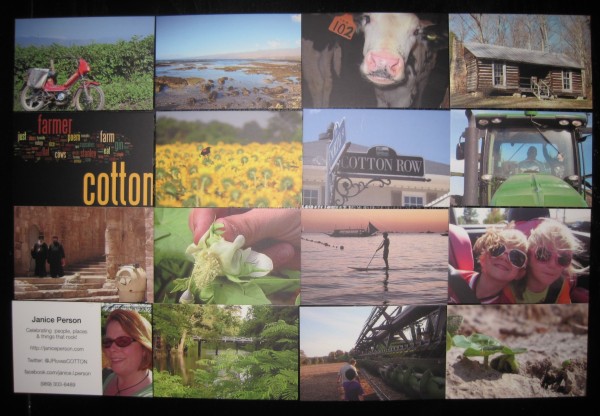 Do you have business cards or personal cards that connect to social media? What about using cards to help tell your story?
Related articles