Sometimes you get a prompt to tell a story and you suddenly realize that you remember more detail years later than you realized. That's exactly what happened to me recently when I saw this question: What is the most terrifying experience you have had while travelling?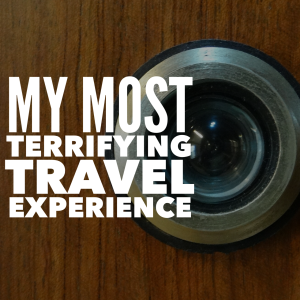 My guess is a story like that prompts a lot of people to try and decide what may be the most terrifying travel experience they have had. For me, I immediately pictured a hotel that is right next to the Atlanta airport and then I started writing. Just writing it down seemed to make my heartbeat shift….
Years ago, I was traveling alone on business and had a really early flight so I stayed at a hotel near the Atlanta airport. I made sure alarms were set, my bags were ready to go and I crashed a little early.
In the middle of the night, I hear banging on a door. I wake up, shake my head out of the sleep fog and think it is on my door. It is not knocking…. it sounds like this person will be coming through the door. No lie. Someone is screaming at the top of their lungs. They want me out of that room immediately. My heart was racing and I grab the hotel phone wondering if I should call 911. I call the front desk instead, scared out of my mind.
They ask me what the person looks like, saying they will call the police. I walk toward the door, shaking with fear that the lunatic on the other side will somehow breakthrough and then realize it is a guy in a security guard's outfit.
I rush back to the phone and give the description about the same time I hear a radio in the hall. The front desk is telling the guard to get to my floor immediately as a guest is being harassed. Yes, it is the security guard that works for the hotel who is trying to get me to leave my room.
I talk to the front desk saying their guard has lost his mind or something and am convinced the police should be on the way — at the same moment, the guard stops knocking and shouts through the door he's sorry. I hear from the guard and desk that there has been a misunderstanding. The desk clerk said everything is cleared up now and I should get some rest. AS IF!
The front desk explains that there had been an issue with rooms not being vacated recently so they had a policy of checking the rooms that weren't rented out. It was just a safety thing. Somehow, the records the guard were given didn't show I was in the room for the night. He thought someone was pulling a fast one on the hotel.
I stayed in the room a few more hours…. Not sure why cause I damn sure wasn't going to be able to sleep with that fear-based adrenaline rush! Then again, I really found it hard to open that door too. I totally felt trapped and the lack of sleep was not going to be my friend.
When I finally did checkout, I went to the front desk and was apologized to profusely. I was a frequent traveler then too so they had all that in my record. I said I didn't want to pay for the room…. That I was still frightened hours later and was told they understood and agreed. I made them explain it to me again cause I couldn't process much in the middle of the night cowering in fear. They said the guard had knocked but gotten no answer so he knocked harder and shouted.
Although I understood intellectually what had happened, it was so jarring to me that I had trouble at hotels for a while, wondering if something like that would happen. I seriously was afraid if not for my life, at least that I was totally going to get my ass kicked. And while I later understood the guard would simply have removed me from the property, I couldn't process any of that. It sounded like I was going to be pummeled!
Not cool for someone traveling on their own, especially a woman in her 20s. And what's so strange is how much I remember about that fear….
Even as I wrote this I could remember how disabling that fear was at the time. I can remember my heart racing. My trepidation at the very idea of walking toward the door and the feeling of absolute loneliness the rest of the night as I sat in that room trying to figure out whether I should leave for the airport or not. Whether it would be OK to go outside. Whether I could actually get any rest if I tried…..
Fear really does a number on you.
Do you have a most terrifying travel experience to share?