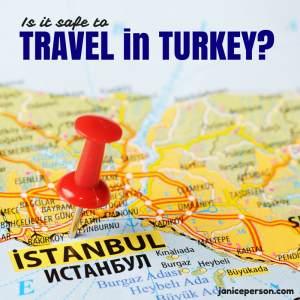 As I mentioned in my post about my going on vacation under the radar, security was one reason for me keeping my social media sharing about my Turkish vacation to a group of under two dozen people.  A lot of people have raised questions about security in Turkey for good reason:
Turkey is uniquely connected to European, Asian and Middle Eastern interests.
Turkey borders both Syria and Iraq — two countries who have more than a few issues with security right now.
Political change in the country is not as routine as it is in some parts of the world and some have had a hard time figuring out what is happening in Turkey right now.
The way Turkey police work appears to be a bit different from your day-to-day in the US.
Safety and security was definitely being thought about as I was planning my trip, especially knowing I would be there on election day. I looked for factual information and for my trusted voices rather than the general buzz online.
My Experience in Turkey 2015
Knowing locals who I trusted to give me direct information, I went forward with a trip that had been discussed casually for five years or more. Although I can tell you about a few things that I felt were unusual, I generally felt safe taking the same types of precautions I do generally when traveling.
In Turkey as in most parts of Europe and the US, you should take care of your belongings, particularly in a big crowd. Keeping valuables in the hotel safe unless I needed them with me usually makes good sense — I don't want my iPad stolen in Antakya anymore than I do in Atlanta.
When traveling, I tend to stay aware of the people around me, particularly if I end up in a big crowd. With crowds anticipated, I tend to wear a cross body bag and keep a hand on it as well. Remember, the cultural difference may make it harder for you to really understand the mood of a crowd.
Police Presence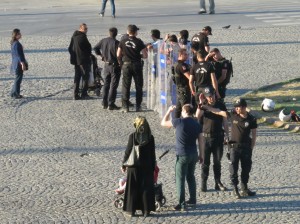 During my first visit to Turkey, I took a taxi to a famous mosque & had charted my walk back to the hotel through the campus on Istanbul University and the Grand Bazaar. However, after leaving the mosque, when I turned a corner, I realized there was a massive group of police in riot gear standing at the university's gates. I simply headed for the bazaar and stayed close to the perimeter so I could exit if something went awry. I didn't hangout much that day.
After talking with Turkish friends, I realize this is far more typical in Istanbul than it is here in St. Louis so on this visit as I saw a lot of police while touring with Nilay. So as I got to Taksim Square the night Galatasaray fans would be celebrating the futbol championship, I went ahead with plans to shop. I used the vibe there as my baseline for normal and though I will say I stayed aware of various shops or hotels where I thought I would go if there was a radical shift in mood, none of that was necessary.
I like to walk around neighborhoods, but I take time to familiarize myself with maps before going out. Asking at the hotel desk about areas you may want to walk around is a great idea — the hotel staff has a vested interest in making your stay nice. Also be sure you grab a hotel card so if something happens and you get lost, you can ask a local merchant for help. Choosing who you get help from is a good rule as the one person in a whole neighborhood you don't want to deal with may be the one who senses you are lost.
Travel Safety/Security Tips
Since it is sometimes nice to have a simple checklist for safety, I wanted to put together a few tips for international travel with a bit of explanation specific to Turkey when needed.
Use your common sense. Think about the areas you are traveling in and make sure you ask hotel staff about general guidelines, stay alert rather than going to the point of exhaustion or drinking heavily and remember you need to maintain your own responsibility rather than entrusting that to strangers. I'd also point out that it probably is smart to just keep walking when you see street vendors selling something that looks like currency… no good can come of hanging out around that!
Protect your valuables.  Most hotels offer an in-room safe. Familiarize yourself with the way it works and test its use with your personal code.

Passport — With international travel, your passport is one of the valuables that needs to be taken care of. Leave a photo copy with family or friends in the US. You need to produce it when you check into hotels, change money and a few other things. Otherwise have it tucked away in the safe or someplace safe.
Money / credit & bank cards — I tend to pare down on credit cards, ATM cards, etc because it is easy to keep track of it. Staying aware of them, keeping purses (prefer cross-over bags), bags, close and tight is smart.
Electronics / data — Lots of us travel with iPhones, iPads, laptops, digital cameras, etc. Be thoughtful about what you are carrying and feel free to leave others in the safe.

Know before you go. Do a bit of research before you goto be sure you understand the general culture, this is particularly important if you will be in a culture that is different in terms of religion, views on race or sexuality, etc. For women, it is particularly important to understand the climate for women traveling independently.

Dressing — Be sure you think about the cultural norms for dressing, particularly if you are in areas of the Middle East. Much of Turkey is very progressive and beaches are very similar to Europe and the US, however some of the more remote and rural areas may be more provincial and shorts & a low-cut tank top may really leave you standing out in the crowd getting negative attention. It is also helpful to pay attention to local women once you are there and take cues from them.
Culture — One book series I find particularly interesting on cultural norms is called Culture Shock. I have found it amazing some of the things that are constant in the U.S. that are incredibly rude in other parts of the world. Being sure you know how to be respectful
Appearance of connections — I know some women who are very sure to wear wedding bands when they travel whether or not they are married just to signal unavailable while traveling. It's also fine to use little white lies like you are meeting a friend or say "we" instead of I if you are talking to someone.
Transportation / walking — When you are moving around rather by subway or walking, determine your path, etc before you leave the hotel, shop, etc. Being confident in the way you carry yourself helps and feel free to use the mapping programs on your phone to be sure the cab is headed the right way. Hotels frequently can get a cab for you — and in Istanbul you can get a BiTaksi from your smartphone (similar to Uber).

Think about communication. 

Social Media — As I mentioned in my post about deciding to travel on the downlow, choosing not to be posting frequently to public social channels was in part derived based on my safety & security. I also had other communications channels clearly available. Provide your itinerary to people you trust, let them know how often you will check in, etc.
Local phone — For me, I have found having a local phone number is really helpful. Hotels get programmed in as do travel agents, local friends, etc. If I am having trouble with the language or take the wrong subway line, I have a way to get in touch. Besides, it is great to know you don't have to worry about racking up international charges or letting work interrupt your vacation!  In Turkey, know you can call an ambulance by dialing 112 or the police by calling 155 — not sure how much English will be spoken by operators.
Keep a hotel business card with you — You'll be surprised how much easier it makes communicating with a taxi driver. By the way, use care in getting a cab.
As you have probably guessed, I decided it would be safe to travel in Turkey, even with the added challenge of being a woman who would travel solo some of the time.