Every year as Mother's Day approaches, there is that pondering of gifts we all go through. It isn't that we really think buying our moms something is what they want, but we all want to show our moms how incredibly special they are to us. That's why I was so happy to have a good idea early. Turned out it was the perfect Mother's Day gift for both of us.
When I went to D.C. on vacation in November, my mom made a casual comment about wanting to see the White House some day. I didn't realize she hadn't been before! Somewhere in my mind, the fact that she had been to metro D.C. to visit family, meant she had been to Washington. I made the mental note. So when I was asked to speak at a conference being held in DC in late March, I called mom and asked if she wanted to go with me. And although I wasn't sure she'd want to travel, she said yes!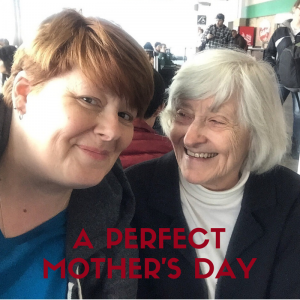 I have been to D.C. many times and yet this trip meant a different kind of planning — trying to determine how much we could see & do and then prioritizing those things that can't be missed. But most of all, I just really wanted to make sure my mom had a great trip and that we really enjoyed being together!
We flew to DC together, heading out on Friday afternoon and I told mom I planned to capture photos along the way. And this selfie snapped in the airport drew lots of comments on Instagram and Facebook. Seemed friends and family knew we were in for an adventure and one that we would both love!
It was incredible to be with her as she first took in some of the monuments and buildings she has seen untold times on TV, in movies, etc. So I'm pretty sure I enjoyed the gift as much as she did!
I will write another post about the various things we did, but for this one, I just want to celebrate my mom for Mother's Day. So here is a bit of a photo essay of pics of us together — the what we were up to and how we got around will come soon! Oh, and we already have our next destination picked out!