Today is one of those days…. Having had an incredible time at the AgChat Foundation Conference but not much resting time, I've seen people talk of "recuperating" and must admit the green-eyed monster raised his head a tiny bit. Then again, I sort of did this to myself.
A year ago, I agreed to move from Memphis to St. Louis for work. Its been so long ago, I can't believe I'm just getting there. Of course, the process was delayed at the onset because I had a few things here that made me unable to even work on the move until after the first of the year, but the process has drawn out much longer than I could have imagined possible. And the amount of work that needed to be done was unbelievable. When I spent a little time talking about that, I was impressed with someone reaching out to me based on my hashtag use…. they really were good (one of VERY FEW bright spots). The process has been exhausting both mentally and physically and its a god-send that I'm able to at least think I see a light at the end of the tunnel.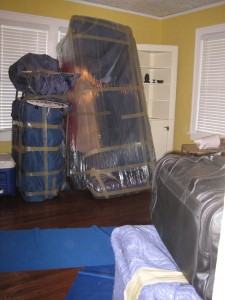 Right now there are four people in the house. Sean & Leo from Atlanta with the moving company. They are packing like demons. And then the guys who disconnect my washer and disassemble the armoire I got from my grandmom showed up. I've spent the morning doing lots of fun things:
Isolating all the things that need to go with me to the guest room closet
Washing the clothes I wore at ACFC11 and linens
Clearing countertops of the clean dishes that had been drying
Calling & emailing all the people I need to finalize some of those pesky moving details
(BTW, the other two guys left so now its just Leo, Sean & I.)
The sounds of tape being put across boxes in great amounts is making me having chill bumps. Paper is crinkling everywhere. And I am simply trying to stay out of their way. They do this every week. They know how to wrap things, how to label them, etc. I know it probably sounds crazy to people that I could be relaxing and blogging for a few minutes, but I am tucked away in the guest room with my laptop. I'm sitting in the folding chair usually used for concerts at Levitt Shell and soccer games. The tunes are cranking through the box (iPod just shuffled onto a U2 remix "If God would send his angels….").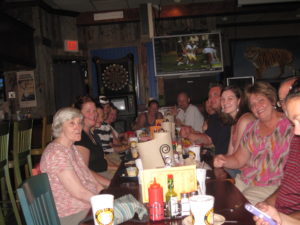 This is my fourth long distance move where packers handled my things (Memphis to White Plains, NY; White Plains to Cleveland, MS; Cleveland to Memphis and now to STL). I have learned that I have lots to do on the front end and have to be constantly available. But watching people pack things is just crazy. They move far faster than I can from years of experience and they have an inherent connection to my best interest. I've seen movers have to pay for the things they broke. They help me set up the new house. They are at least short-term friends, good people trying to do their job.
Well, I took a little bit longer break than intended. And I'm going to add some photos to this (both from the movers and from last night's great dinner with a combination of incredible family & friends). In case you haven't already guessed, we said goodbyes as we ate barbecue at one of my favorite places — Central BBQ!
[slideshow post_ID=8150]