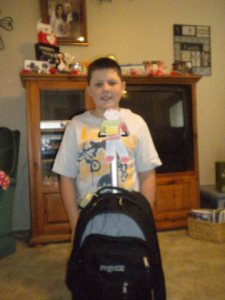 Denair, California (2,642 miles from home)
Hey Jake,
On Thursday January 12th 2010 I took flat Stanley to school with me at Denair Elementary School. We read the book "The series of the unfortunate events" together. Stanley enjoyed the book because it was about 3 kids who go to a lumber mill, and while there learned about how a lumber mill runs.
Then we watched two different historical movies about the Boston Tea Party and Martin Luther King Jr. The Boston Tea Party was a protest by the colonists over what they felt was an unfair Tea Tax. Martin Luther King Jr. was an important part of our history because his dream was one of tolerance for all different kinds of people no matter their skin color. Stanley was also excited to hear Mr. King was born in Atlanta because he was just there a few days ago.
Stanley was able to see me hit a home run run while playing baseball for PE. By the end of the day, Stanley was tired and excited to have spent the day at school with me in California.
Bryson Prock
5th Grade
Denair, CA
(Bryson's family has a dairy farm called RayLinDairy)