Sometimes, there is a flash and you see things a little differently. That's what sort of happened a few weeks ago. I had airline tickets to North Carolina & was making plans to see my nephew Jake of Flat Stanley fame here on the blog. I was also going to be leading some sessions on blogging with my good friend Ryan Goodman.
Behind the Scenes
It could have been worse. I thought I had a good idea and I blurted it out to a small group of dear friends. They egged me on and BAM!  Flat Ryan was born! He's a Flat Stanley of sorts, but he's available for those of us in agriculture who want to find creative ways to tell our story to download, color and take on adventures. Flat Ryan has a thirst for knowledge and ag trivia is something that can really help us share what we are doing, the impact it was, etc. Fun and full of info? That's Flat Ryan (and the 3D version too!)
We surprised the 3D version with the series during the AgChat Foundation's Conference, during the advanced blogging session Ryan & I presented to be clear.  🙂 It was a great way to talk about how a series of blog posts can help you come up with ideas to write about. What was fun was I had a chnce to briefly throw out the idea of a Flat Stanley type of project for Ag Proud on Wednesday night!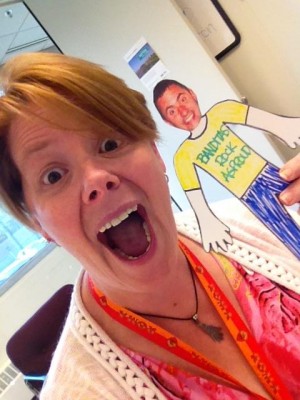 Flat Stanley Becomes Flat Ryan
The post on Agriculture Proud introducing Flat Ryan to the community gives several reasons for doing it.
via A New Series — The AgProud Adventures of Flat Ryan! | Agriculture Proud.
Check Out Flat Ryan
There are a couple of ways for people to get involved!
Related articles