The last couple of days, I've seen the #ACFC11 hashtag (the AgChat Foundation's Conference in Nashville August 22-23) lighting up with excitement of meeting folks we've been talking to for months or even years, as well as seeing friends we rarely get to see. Well, as I was trying to strong arm my friend, California almond farmer Brent Boersma (Twitter, blog) into bringing me almonds, I thought about the fact last year I returned from ACFC10 with some lavender Jan Hoadley grew and dried on her Slow Money Farm (Twitter, blog). I also thought about a discussion with logger Mark Lathrop (Twitter, blog) about things that he should see as he makes the trip to my part of the world.
Add all that together and I have a proposal.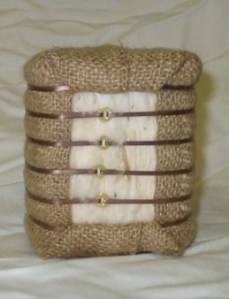 JP's #ACFC11 Go Local Proposal
Let's plan ahead (where possible) and bring a few things from home that we think people should know about where we're from. I have to admit that it seems like popcorn farmers Ryan Weeks (Twitter, Blog) and Zach Hunnicutt (Twitter) have an easy crowd pleaser. (I've given testimony on popcorn from Ryan's before). 
We could do this like Olympic athletes trade pins, by bringing fun things from home we can trade around with others at #ACFC11.  I'm thinking I may get a good size bag of almonds (I'll even call them ammonds to make Brent happy) for some cool Elvis paraphenalia! Or what may I get in exchange for a small cotton bale? One of the wildly popular cotton koozies? Do you see where I'm going? Sort of an AgChat Swap Meet.
Knowing there are 75 participants, plus people like me who get to lead sessions, it's not feasible for us all to try and bring enough for the 100-125 people who may be there. BUT, by bringing one or two dozen things to barter…. can all be the same or different…. you could have a chance to trade with several people from other areas of the country. Its just an idea that helps each of us take home a bit of our friends hometown.
These should not be expensive — and they could be free from a local association or your stash of swag you have lying around. And just think about what sort of conversation piece these trinkets could be in another area of the country. A great way to get someone else to tell part of your story. And you never know, someone may end up writing a blog post about the awesomeness!
Show of Interest?
I'd like to get a show of hands on who may be interested. We can keep tally of folks here in the comments.