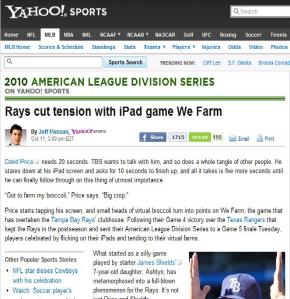 This blog's regular readers know a few of things about me that relate directly to this story:
I have an iPad and I am happily addicted to it (see these posts)
I love agriculture (you can read almost any post on this blog)
So it shouldn't surprise anyone that when I see sports news that includes a virtual farm game — this time its We Farm for the iPad — that I would HAVE TO PAUSE and take note. I mean seriously folks, I was looking for news on the Yankees and came up with something about players from Major League Baseball's Tampa Bay Rays relaxing with a virtual farm competition… not anticipated.
And it seemed like I had to comment when I realized the article was written by a reporter with the initials JP. Coincidence? I think not! So feel free to read the whole article (linked through the photo), or just this except: 
The rigors of a 162-game season and the stressors of the playoffs send the Rays scurrying for an outlet, and they've found it on a 9.7-inch screen and a game that resembles the popular Farmville. The players download the app for free, and then start building their dream farm, replete with everything from broccoli rows to blackberry-surrounded baseball fields.

The We Farm devotees around the clubhouse compare their plots and commence the trash talking. Originally, it bottlenecked toward Shields, who in July started playing the game in the clubhouse so Ashtyn's crops stayed in good shape. About a month later, he convinced others to join in, and they've been trying to match him ever since.

"He's like 3,000th in the world," Price says with admiration.

Price, competitor he is, wants to catch up. Even though he will pitch the most important game of his life Tuesday against former Cy Young winner Cliff Lee(notes), Price can't forget about his farm. In Kansas City for the Rays' final regular-season series, Price purchased a "Grow" add-on for $99.99 – "plus a 20 percent discount," he notes. For his not-real crops, he spent real money.

Not quite as much, however, as Upton, the Rays' center field whom the We Farm addicts point to as the most jonesing of the bunch. Teammates say Upton has spent hundreds of dollars on Grow, and when confronted on the subject, he says: "No comment."

via Rays cut tension with iPad game We Farm – MLB – Yahoo! Sports.
What's so strange is I know people who work in agriculture who have fantasy baseball teams that they compete with co-workers on. It amazingly can become a near bloodsport so I guess I shouldn't be too surprised that baseball players would find farming a good change of pace.
That all makes me wonder what Matt Garza does to really get away. The article describes Matt Garza as John Deere of the Rays because he is actually connected to real agriculture. He owns a table grape farm in Fresno, California. So what would he play Mafia Wars, CafeWorld or HappyAquarium? How about you…. what do you play?