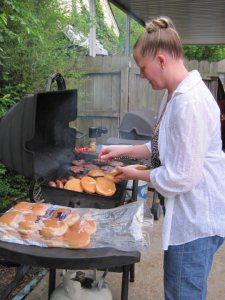 This is usually considered the official end of summer. The long weekend features barbecues, trips to the lake and, in some places, getting ready for school to start.
For my blog, it's a departure from the summer food poll. I'll do some food polls now & then, maybe some other polls too to change it up and let me bring some new creative ideas in here.
How will you celebrate Labor Day Weekend? Feel free to mark more than one answer.
[polldaddy poll=3712800]
I plan to spend the long weekend with family — starting with my first look at my nephew's marching band. He's in high school now and I'm excited to see him marching the field while he plays. I've got two nieces going to the game with me! With the weather as incredible as it is here, I think I'm long overdue for taking Marjory's daughters (my nieces by luck not genetics) for a top-down drive.
I am betting on what some others will be doing. Lots of my friends in the cities — like Mace Thornton (Twitter) and Chuck Zimmerman (Twitter, blog) — will be at the grill. That's where my sister Leslie plans to be as she hosts a pool party tomorrow (she can work it as you see in the photo!). Some will make the last trip to the lake.
The founding farmers of AgChat Foundation (Twitter & blog) — Jeff Fowle (Twitter & blog), Darin Grimm (Twitter & blog), Mike Haley (Twitter & blog) and Ray Prock (Twitter & blog) — will be splitting time between enjoying the holiday with family & friends and farming — doing chores to care for livestock, maybe cutting or baling hay, some maybe harvesting corn if the weather looks good.
They will be joined by many farmers, some of whom joined us this week in Chicago to grow their social media skills. Amazing thing is how much that energy is permeating our entire ag community online! That's a good thing because an energy boost is needed after spending time blogging, shooting videos, tweeting, etc after a busy day on the farm!
Thanks to everyone who will help produce the food my family enjoys this weekend (and everyday). In return, I plan to teach my city girl niece a bit more about ag — grow that understanding a bit more. What a perfect plan – taking the convertible out for a spin, hanging out with the ones I love and agvocating at the same time! Life is good!