Salad dressings are truly something of regional and personal preference. I can side with Texas on ranch dressing now and then, but I've always loved the Italian style dressing of using balsamic vinegar and oil oil on a salad. And I can still remember buying balsamic vinegar in Modena, Italy and thinking that had absolutely no connection to the small bottles I had used at salad bars. A tiny drip of the good stuff on parmesan cheese and I was HOOKED! I have bought several bottles of Modena balsamic in the years since and its definitely an item I bring home after a trip to visit my friends Kelly & Steve in Emilia-Romagna (they are the ones with the White Dog microbrewery). All of that is in explanation about what I did on Facebook recently.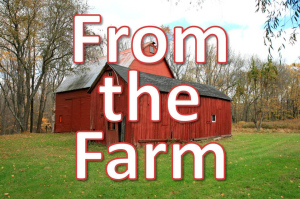 My friend Mark Lathrop aka @SustainableWood  lives in Northern California. He posted that he was headed to get some of the awesome balsamic vinegar that is made in his area. I made the smart reply that he should send me some. I figured when he replied that I should send him my address, he was being smart too. So a couple of days later when he was following up and I realized he was sincere, it was like Christmas was coming again! Thinking about good balsamic vinegar coming straight from the farm where it was produced…. well, what a smile Mark created and that will be visiting regularly for a while!!!  (Oh, and this is starting a whole new series of blog posts called "From the Farm" that links back to stories about farmers sharing what's produced in their farm or area!)
Making A Salad
So, Mark sent me some balsamic vinegar from a local olive oil farming company. Lucero. He said he discovered them when he spoke to a county farm bureau group in the area and  it was an honorarium he received. He says he's been hooked ever since! Mark says he loves using these balsamic vinegars for meat marinades. I looked on the Lucero blog and from the looks of that recipe and photo, I definitely need to try it soon!
But I'm writing the post because I made myself a spinach salad last weekend and had to have a fresh dressing to put on it! The vinegar is made so well…. it should be a thick pour, not pour as easily as water. I put this to the taste test by trying it solo first…. have mercy it tastes great!
Looking around their blog, I am pretty sure I can eat my body weight in this caprese salad and this spring and summer I'll be making lots of fresh salads like this one.
Learning About Lucero
I love the fact that the product comes straight from the Lucero farm. Looking around the Lucero website, its clear they have a love of the products they make. Olive oil seems to be their biggest product coming from the olive trees on the farm. The website let me learn more about Lucero I wanted to share:
Lucero Olive Oil is the result of three generations of farming and producing olives in Northern California. The rural community Corning, "The Olive Capital," has some of the oldest olive trees in California, and many of these century-old trees continue to flourish in the Lucero family groves. Dewey's maternal grandfather, has been one of the foremost olive growers in Northern California (since 1946 – 62 years), owning his own nursery for over 27 years. He grew a majority of the olive trees now in production in Northern California. Over 40 years ago, Dewey's paternal grandfather started producing small quantities of extra virgin olive oil for his family and friends. His olive oil was so popular it would sell out in a matter of days. In 2005 Dewey took a leap of faith and started to develop a family label, pressed large quantities of olive oil and began to market and sell Lucero Olive Oil across California. Since then the Lucero's have been growing and producing more and more top quality extra virgin olive oil each year…the rest is history in the making.
Learning More
You can find Mark Lathrop on Twitter as @SustainableWood and check out his blog "thoughts from a knothead with sawdust in his veins." Please note, he can't send balsamic vinegar to everyone but you get great info about Northern California, forrestry and more as well as great vibes!
You can reach Luccero online in a variety of places too! They are on Twitter as @LuceroOliveOil, Facebook as Lucero Olive Oil and YouTube as LuceroOliveOil and they blog on LuceroOliveOil.com.