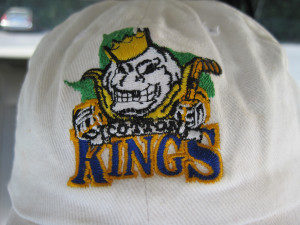 For a city girl, I have to admit I've had my share of sports mascots with farm-related themes to them. The revelation came to me recently as I looked for a way to camouflage a bad hair day and pulled out my Lubbock Cotton Kings cap (photo at right). The Cotton Kings really stood out for me cause I was working in the cotton industry when I first saw it and I loved that someone was twisted enough to black out the teeth on a cotton boll. They changed logos going for a shield that was far more respectable before the team suspended operations.
But I have crossed paths with several other really strange agriculture- or farm-related mascots that are definitely worth mentioning.
Phillips University Haymakers (Enid, OK) — I went to a college in the middle of nowhere it seemed. And of course, such a small school in a smaller town than I had known, had to have an off-beat school mascot. Seriously, our teams were called the Haymakers! I'm not sure why that was the chosen mascot, it seemed Enid, Oklahoma was far more into wheat production but they didn't ask me. Oh, and had they asked the students it was Lil Hay, a skunk that played on the school's abbreviation PU. Yes, it was funny and at the time I had no idea how closely connected skunks were to agriculture. And the local high school's mascot was the Plainsmen which I assume related to the land run and the folks who settled and farmed the area.
Lubbock Cotton Kings — I sort of explained them a bit up above but must say the reason I have a cap and a shirt is funny. The company I was working for was building a large facility near Lubbock, Texas several years ago. I had been out there a lot & one day stumbled on the Cotton Kings gift shop and had to get myself an off-beat souvenir. We were hosting a media event out there when Dallas-Fort Worth happened to most of the people trying to make the trip. The insanity of travel made me think something unique was in order. I went back to the store & bought several different things and had to get myself something else as well! 
Delta State University Fighting Okra (Cleveland, MS) — This mascot and it's image on t-shirts, caps, etc made me laugh frequently when I first moved to Cleveland. I learned fairly quickly though that it is one helluva vegetable with attitude! Not only did I have to have one or two, but I found they made great gifts! And yes, all my nieces got Fighting Okra t-shirts and it seemed I had people placing orders every time one of them wore their shirt!
This summer I got used to seeing the "Corn Crib" tweeted as friends regularly attended baseball games by the Normal CornBelters in Illinois. Chuck Zimmerman of AgWired worte this blog post about the team.
Of course there are those high profile teams with an ag connection like the Huskers from the University of Nebraska, which at one time used the BugEaters as their mascot. I have to say, that makes the Phillips Haymakers sound way better… Nebraska BugEaters? Really? I saw a tweet from the @CobSquad that read "#FunFact  #UNL "Cornhusker" football team was know as bugeaters until 1900." Not sure why I can't find it now but I verified its accuracy on the university's site. I can't decide whether bugeaters are ag-related, they could be the parasitic wasp sort of thing right? And I'm pretty sure farmers would enjoy having bug eaters around when pests are taking their toll on crops!
Before I go, I know this isn't an exhaustive list but I found another blog post that talks to some of the other ag-related sports team mascots.  You may enjoy it, I did.
Do you have any other farm-focused teams I should know about, be cheering for or consider a purchase of merchandise?  It seems I'm getting quite a collection!