One of the greatest benefits to the career I lucked my way into, is the people. I really think that's how I landed in agricultural communications and I know it's a major part of the reason I've remained. From the first time I went out on a cotton farm to do my first story til conversations I had late last week, I've had the benefit of getting to know incredible people.
To know the incredible people I'm talking about, you need to slow down and take the time to talk  to people. Learn their story. Live in their communities. The reason I say this is that some of the most incredible folks I've found stay clear of the limelight every chance they get.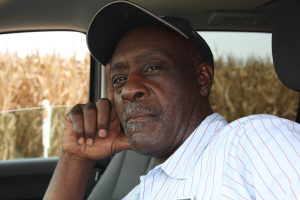 Last week, one of those incredible people who ducked my camera for more than a decade before giving in and letting me take a picture now and then, got a little recognition. But long before my camera's shutter ever caught Sidney Miller, I had a detailed photo of him in my mind:
He has a sense of loyalty that few understand anymore. To work for the same company with pride in his work for five decades plus, that's unheard of in our mobile society.
Days with trailers full of tourists from overseas or farmers from down the road, whoever was there, whatever was needed, Sidney went about his job conscientiously and steadily.
Legends were created about farmers and tractor drivers like Sidney. When I first met him, GPS was likely still a concept for NASA because it was still years from the introduction of precision agriculture. Yet no GPS-driven auto-steer could improve on the straightness of the rows Sidney put up.
Sidney is the kind of man that you wander up to stand beside at the hometown football game. When you do, he's glad to answer your never ending question about what number someone's son is wearing or who is that with the ball. And he'll let you know when the team is headed to a tournament and how to get the latest t-shirt if you want one.
If you are friends with Sidney and have a young nephew come to visit, he'll find time to take him out in the tractor for hours on end. I picked my nephew up hours later and asked what all they had been doing. His reply was "sitting and thinking mostly." I asked if Sidney explained what they were doing in the field and my nephew said "not really, we were thinking." My nephew loved every minute of it too and learned more than I ever could have anticipated.
A man like that has to be married to someone equally fantastic – and that's Ruby! She's a great educator who not only worked in one school system but served on the school board of another! Yes and she's good enough to have helped me find ways to participate in the schools AND so sweet that she invited me to her family reunion!
In Sidney's 52 years of work with Delta and Pine Land Company and Monsanto Company, my guess is he ducked the cameras hundreds if not thousands of times. No need to draw attention to himself because a job well-done was enough. But he did take a little time recently to talk with a couple of people from St. Louis and the resulting article was posted to the web last week. It's great as Sidney talked to Tyne about some of the changes he's seen in the five decades he's been working in the small town of Scott, Mississippi. That article captures him so well. But then again, so does a photo above that I took a year or two ago.
I hope you know a Sidney Miller, even if it's not the same guy I know. They are the incredible people that keep this world moving forward, slow and steady, progress being made everyday. I hope I leave such a great legacy of a job well-done when I retire.