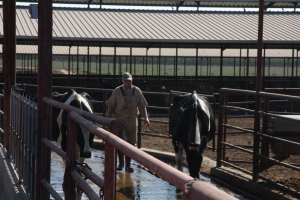 When I headed West for work a few weeks ago, I was thrilled to find out I could take a bit of extra time and visit a couple of friendly farmers in addition to the meetings I needed to attend. With the number of farmers in California that I consider friends, I had to figure out where I'd start on begging for people's time. Early on, I asked Ray Prock if I could visit RayLinDairy.
Ray's been a gd friend for a few years already. We've visited several cities together. Had some incredible meals along the way — Seattle on the wharf, sushi in Atlanta…. And we always have a mixture of good conversation and big belly laughs. The idea of FINALLY seeing his farm was more than intriguing to me. And while Ray seemed happy to hear I was heading his way, it shocked him that I had never been to a dairy farm.
I wasn't sure how to "prepare" other than the way I do for most farm visits I make.
Shoes that can take the mud if needed
Cameras, batteries, monopod/tripod
Good map to help me get there (iPad is my standard)
Some clothes that have pockets for gadgets
First Impressions
Ray gave me directions and following those & my iPad, I was cruising on up the road and began to wonder if I was in the right place when suddenly the RLD wireless signal prompted my iPad to see if I wanted to connect. I knew then, I had found agnerd central (proven by this Android post by Ray) and was DEFINITELY in the right place! So I turned in and drove up near the barns.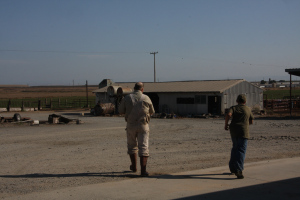 After taking a few minutes to be sure I had my cameras all organized, I got out and wondered which way to head. It didn't take long for me to see Ray & Bryson (Ray's 11-year-old son). There was a problem and while I had no idea what was going on, I knew to stay out of the way. Over time I found out that a cow was in trouble and quick action was needed. I stayed off to the side and watched as Ray & Bryson got things handled…. it was impressive. I
While all this was going on, I slowly noticed that I hadn't noticed a "smell." You know we all hear about it. With a lot of cows in a small area, I went in with a mistaken thought that the smell of manure and all those cow burps & farts would be powerful. It really wasn't even noticeable except when we went back to the manure ponds.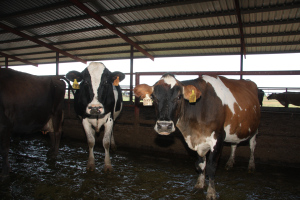 Another stereotype or two….. I'm not sure I heard more than a moo or two. I did have a lot of face-time with the cows though. They kept their eyes on me no matter what!
I have to admit, Ray filled a bit of a stereotype that morning for the first time since I've known him "looked like a farmer." I never have seen him working on the farm, i.e. in his "work clothes," because when he's working at meetings, he's dressed for that work. It wasn't just the boots and overalls or the fact that he was willing to get dirty to get the job done. I think it was the determination in his eyes to get the job done right. That's something I've seen time and time again in the eyes of farmers I know,  and I saw the gleam in Bryson's eyes too. 🙂
Details
I spent quite a few hours with Ray & Bryson and took a million photos and a lot of video so I'll work up several posts. I am thinking there is one about being a kid on the farm cause Bryson just totally rocks, one maybe about the feed, another where Ray answered questions friends raised and what would a dairy series be without talk of cheese?
Don't forget, you can always hear straight from Ray on his blog RayLinDairy.com.