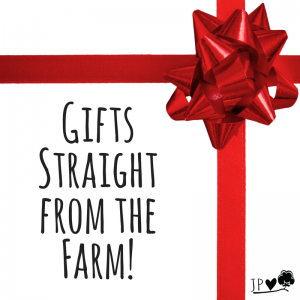 Each year as the holidays roll in, I see lots of gift guides online and I enjoy going through the various ideas people offer up. The ones I enjoy the most include gifts that you don't see very often, unique gifts always grab my eye.
This year, I decided to work ahead and pull together my own gift guide, featuring some of the farmers I know (and a few of their friends too) who have really cool things available! So this will definitely be a guide that has unique options! And don't forget there are also posts on cotton gifts and the ways to tell Santa is a farmer or rancher!
Pheasant Hunting in the Flint Hills of Kansas
Located deep in the tallgrass prairie, the native fields and grass are excellent for hunting pheasant and quail. Level Creek Outfitters is a family owned hunting service, on a working cattle ranch. The views are spectacular, the personalized service excellent, and the birds are plentiful. Owner and operator Trent Blythe is motivated to provide you with the best hunting experience. Come experience the prairie that feels far from civilization–but is only 45 miles from Manhattan, Ks.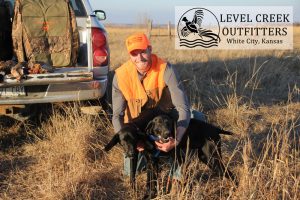 They have many options available for Controlled Shooting Hunts, and of course, can customize a hunt for you. Enjoy home cooked meals and relax between hunts; enjoy a campfire or the latest game on tv. Come for the hunting; come back for the service!
Company: Level Creek Outfitters, along with Blythe Family Farms, LLC
Contact via LevelCreekOutfitters.com
Deadline to make Christmas Delivery: 12/24 (digital gift certificate)
Fresh California Avocados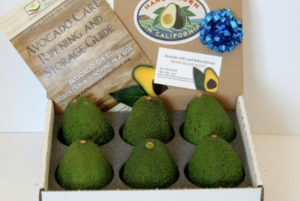 Last spring I had a chance to visit a friend I met at a produce marketing show years ago and have visited a few times since. Her blog and her personal brand say it all — MimiAvocado! You can learn lots about avocados there AND get recipes. Mimi's family farm operates a fourth generation farm outside of San Diego and ship fresh picked avocados from our trees to your door.
Big Sky FarmHer Photography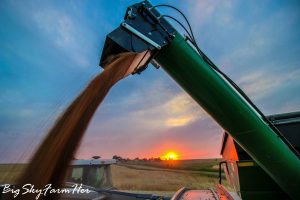 Michelle Jones is a fourth generation farmer and rancher in Montana. Aside from a passion for farming she is an amateur photographer. If you are interested in beautiful farm landscapes and wildlife photography, you can check out her work on her page
BigSkyFarmHer on Facebook
. She has prints, canvases, metal art and more available in many different sizes.
Bubba-Bug Popcorn
Lemonade stands aren't too profitable on an empty country road, so Ethan (Bubba) & Natalie (Nattie-Bug) Pratt chose to do what their family does best—farm. (Their mom is my friend Katie Pratt of theillinoisfarmgirl.com.) Their crop – popcorn. From a white hull-less variety to mini rainbow ears and strawberry popcorn, Bubba-Bug Popcorn promises to fill all your snacking and gifting needs.
Prairie Californian Apparel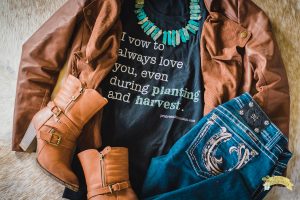 Jenny Dewey Rohrich, the Prairie Californian, is the daughter of a butcher, wife to a farmer, self-proclaimed home cook, and new boy mom. She is Californian born, but followed her heart to the rural prairies of North Dakota.
Jenny loves life on the farm and loves to share that with others. She has created apparel so that we all can show the world what we love…
Cotton for Your Home
Black Cotton is a family business that hails from deep roots, 5 generations of farmers, located in Northampton County, North Carolina. They offer home decor and accessory products from raw homegrown cotton. The Tillerys say "Cotton is our culture, let's grow together."
Gifts from the Nut House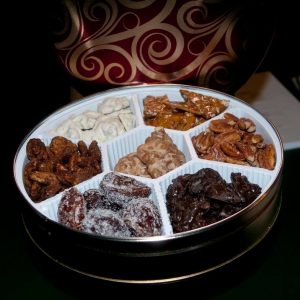 Kevin and Lydia Yon, along with their three children operate Yon Family Farms, best known for raising high quality, registered Angus cattle. The Yons care for the pecan orchards and oversee the storefront, now called The Nut House & Country Market. In addition to fresh pecans and delicious homemade pecan candies, the shelves are now stocked with home-grown goods from producers all across South Carolina. Expanded offerings include beef from Yon Family Farms, Hickory Hill Milk, Clemson Blue Cheese, Blackberry Patch Jams and Jelly, West End Coffee, baking mixes from Faithful Foods and more.
Don't Forget Cotton T-Shirts!
Not a farmer but these things show farm love, especially for cotton! Thought I'd remind you that I have a shop to promote the love of cotton and generate some smiles. Since I launched the site, I've heard back from several folks who have grabbed a bit of swag for themselves and I have been wearing some of it myself. The stripper shirt definitely gets the eyebrows up and for the people brave enough to read it closely, it gets a lot of laughs. It has kept me entertained for hours when traveling!
Stephanie Miller enjoyed the cotton picking' good time shirt as they ran the picker this fall. Anji has a coffee mug, Miss Dazey has a few things but is especially excited about a shopping bag she is using.
What's Missing?
This was a survey and responses from just a few farmers offering great things. If you have something really awesome you are selling or would want to recommend, feel free to fill out this short survey and I will do a follow-up post if I get several things submitted from my network. Please understand since I'm putting it on my site, I have the right to refuse publication if there is something I'm not comfortable with.