We are familiar with various types of days set aside to celebrate specific things. Holidays like Mother's Day and Father's Day are celebrated far and wide, but National Ag Day? I am betting quite a few people reading this blog had no idea that March 18, 2015 was the day that has been proclaimed the day that Americans should celebrate agriculture.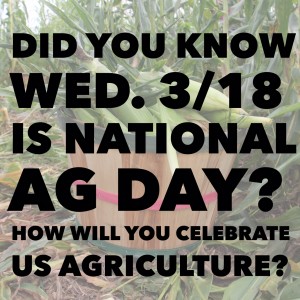 That seems totally normal. And yet, it seems a bit strange too.
Agriculture is a basic building block for us. It is the source of the vast majority of the food we eat. It has been said that agriculture was the beginning of civilization…. the point at which humans began to settle in specific places rather than being nomadic hunter gatherers.
It's hard to think today that we should celebrate something that has been with us that long! On the other hand, that may be one of the biggest reasons to celebrate agriculture.
For me, agriculture is not only the industry that provides my regular paycheck, but even on days off, I have a deep connection to agriculture because I love food! There are years where I grow some of my own food, but in reality, I have always depended on farmers for their production expertise and others in agriculture and food for their parts in producing those crops and getting the products to me.
Now to decide how to celebrate…. you have any ideas?